Imagine that the UK's British Touring Car Championship was on the back page of every newspaper, discussed in every pub, bus queue and office, and generally followed with the same intensity as football.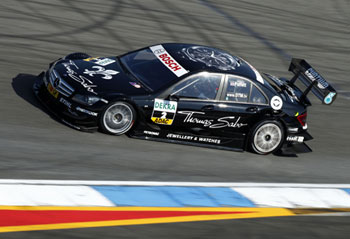 That might not be the situation in this country – as much as motorsport fans may wish it was – but that doesn't stop it being true for one of our biggest European neighbours, giving us a glimpse of what life could be like if our favourite sport went mainstream.
Because we hear that this is how Deutsche Tourenwagen Masters (DTM) is regarded in Germany. The domestic production car series, featuring (for the moment) manufacturers Mercedes and Audi, commanded crowds of tens of thousands of fans for its opening event at Hockenheim this weekend as well as generating immense public interest.
The series is thriving with a new tyre supplier for this year and plans for BMW to enter the series with its M3 model in 2012. It is also expanding into north America from 2013 as a result of a licensing deal with NASCAR.
Each manufacturer supplies several teams, which in turn run different vintages of car. Exactly as you might expect, the newest cars are the most competitive.
And DTM has always been an excellent destination for Brits – with both Gary Paffett and Paul di Resta having won the championship for Mercedes, in 2005 and 2010 respectively. Both have also been runner-up on several other occasions.
From a high of seven British drivers last year, the series now boasts five. Di Resta, last year's Mercedes-powered champion, has graduated to a full-time F1 drive with Force India, while Audi's Katherine Legge is now back in Indianapolis to relaunch her American open-wheel career.
However Gary Paffett, Susie Stoddart and David Coulthard, reviving his racing career after retiring from F1, are all in the driving seat for Mercedes teams, while Audi's cars boast Jamie Green and Oliver Jarvis.
This weekend saw the series launch in Hockenheim with its opening event – check out a race report and find out what happened here.
We've been able to have a chat with both Paffett and Jarvis in the last few days and get their thoughts on the DTM season's forthcoming attractions.
Here's what they had to say:
Gary Paffett – title contender
This season, Paffett is in it to win it. He told us: "It is going to be another close-fought championship – I finished second the last two years, so I am definitely looking forward to it.
"There are six or seven drivers in the fight for the championship with four Mercedes and four Audi cars all capable of wining races. So it will always be close. DTM has a lot of great drivers – three former champions plus a lot of young drivers."
Why does he think so many British drivers find their way into DTM? "I do not know the reason why. For myself, it was through the McLaren BRDC Autosport young driver award [which he won in 1999].
"DTM provides one of the cars for the test day and so they see six of the best young British drivers each year. They find a lot of British drivers from there. The level of driver seems to go in waves – they are all coming through to the higher levels at the same time.
"Also, British drivers do not have that much funding. GP2 is a natural step but not many people have one and a half million to race for a year. That makes DTM an option to go and do."
This year's Brands Hatch round takes place on September 4 – more information here. In previous years it has featured promotional activity with Lewis Hamilton in a bid to get the crowds along and has proved popular with the home fans.
For Bromley-born Paffett it is a welcome opportunity to race on a track he knows extremely well: "Racing in front of your home crowd is always something special. With DTM it's tough – a bit tight and a bit narrow.
"Before Brands we raced at at Donington, then we went away for a few years. You have really got to be able to race there.
"Anyone who comes along and watches DTM is very impressed with it. It's getting people to come along and experience it – we need to tempt people along."
The series' profile in the UK has been raised by Paffett himself, thanks to his other job as a long-time tester for the McLaren Formula One team, as well as by former Mercedes team-mate di Resta, who has spent the last two years as a reserve then a race driver for Silverstone-based Force India.
"Paul and I are very good friends, we have travelled the world together. Being drivers, you do keep some things to yourselves, but we also talk a lot and swap advice. We share as much as we can.
"I would prefer to be racing in Formula One. But it is an interesting job being the test driver. You are involved with every part of the car and in at the birth of an idea. You then refine it for the race drivers.
"You do a bit more development work on the car and understand more about the whole package. You see the raw caw when it starts off – so it is a fantastic job.
"To be able to do both testing and racing. I live for racing and that's what I want to do. The DTM gives me the racing I need."
Testing restrictions have meant the job of the test driver has changed considerably in the last couple of years. "The restrictions have made the job more difficult to a point for everyone. At McLaren we have made it easier than some.
"The McLaren simulator is an ideal piece of kit. Data goes into the computer and we get it as close as we can. Even though you cannot trade anything for track testing, it is a very good simulation process, and sometimes you can even get more data than is available on track."
How does he cope with maintaining fitness for his testing and racing roles? "The best thing for fitness is driving. The DTM car is challenging for drivers. No driver will put their hand up and claim they could drive an F1 car without neck problems. After a couple of months off you are feeling it.
"The neck is very hard to train, it is quite a weak muscle. You have to be quite careful with it. The basics of training are a lot of cardio work, strength and endurance – it's similar for both DTM and F1."
While Paffett is a racer to the core, and clearly wants to be behind the wheel at every opportunity, fans have been treated to the experience of hearing him behind the mike on Radio Five Live, where he has proved to be an adept and engaging summariser.
The highlight of his commentary career so far was last year's Korean Grand Prix – however, he has no plans to hang up his helmet just yet in pursuit of broadcasting glory.
"It is interesting and I do not mind doing it. It is not my first priority and I am not looking to do it full time just yet."
Instead, his mind is firmly fixed on the challenges ahead: "The DTM as it is this year is strong. With BMW coming in next year, that will totally change it.
"If you go to Germany to watch DTM it is incredible, with 60,000 to 70,000 people there. It is on the back pages of all the newspapers. We are trying to get that kind of publicity in the rest of Europe. We will be visiting five countries this year.
"This year will be a very close season not determined by one race. Everyone needs to watch it if they can."
Oliver Jarvis – focusing on the year ahead
For Oliver Jarvis, his fourth season driving for Audi will be about trying to improve on his previous best-placed finish of ninth in the championship – and looking for chances to get on the podium, something he achieved twice in 2009.
He's had a busy pre-season, with Audi carrying out fitness checks on all its drivers, running team-building activities including kart races, and organising a publicity programme to promote the new season.
But now the work really starts with a chance to race on new tyres believed to suit Audi far better than last year's Dunlops.
Jarvis, another former winner of the McLaren BRDC Autosport Award, told BritsOnPole: "We spent a lot of time looking at what happened in 2010. At the same time I have not focused too much on last year. I aim to look forward.
"We struggled with the car suiting my driving style. We are leaving Dunlop tyres in 2011 and I am hoping that the change of tyre manufacturer [from Dunlop to Hankook] will suit my style better and that we will have a strong 2011.
"I think from testing that all sets of tyres are very consistent. That's a great thing as a driver. Ever time you put on a new set of tyres you know what's coming."
He also predicts a highly competitive year between the new and older cars, and also between Audi and Mercedes, with an exciting calendar ahead: "Hockenheim is a fantastic race track, with one of the best atmospheres on the DTM calendar.
"It is a superb track and I have had good results there. I was on the podium in 2009. I'm hoping for a strong start to the year and points on the board."
"The tyres seem very consistent on the long runs. When we first drove on them this was not the case – we tried a few changes in the setup. The tyres vary from track to track, depending on the asphalt."
Is he looking forward to the British DTM round? "I love racing in England, especially at Brands Hatch. I have had some great races there over the last few years.
"It is a fun racetrack and I like the Grand Prix circuit. It has prestige and history. As the cars go into Paddock Hill Bend – that is very impressive.
"It is great to race in front of your home fans. So please do come and have a look.
"There is very little motorsport at this level where you can get as close to the drivers and cars. It is a very friendly atmosphere in the paddock."