And finally – the worst-kept secret in Formula One driving circles has been officially confirmed. Silverstone-based squad Force India has confirmed that young Scot Paul di Resta will be one of its race drivers for the 2011 season.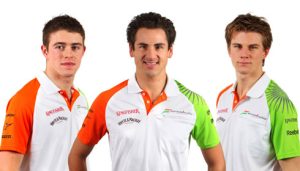 See our profile of di Resta here >>
The team will be pairing him with experienced hand Adrian Sutil – which means Vitantonio Liuzzi is out of a drive and looking for a way to settle with the team. Former Williams pilot Nico Hülkenberg will take on di Resta's previous role as test and reserve driver in what the team describes as "part of a long-term partnership".
Di Resta said of his new role: "Naturally, I am thrilled to be making my race debut this season. Becoming an F1 driver has been a long-held ambition of mine, something I've wanted to do since I first stepped into a kart, and to finally realise it feels amazing.
"I've worked really hard for this opportunity throughout my career and to get it with Force India, a young team that's got ambitions as big as mine, is genuinely exciting. I can't wait to be on the grid in Bahrain, it can't come soon enough."
In the announcement Sutil, 27, is described as enjoying his most successful season in F1 during 2010, when he notched up 47 points on track and helped Force India on its way to a coveted seventh position in the constructors' championship.
He also picked up his highest-ever drivers' championship classification, scoring nine points and coming fifth in the Malaysian Grand Prix. Force India adds: "He is now hungry to achieve both his, and the team's, ultimate goal of becoming a regular podium challenger."
Di Resta, 24, hails from Uphall, in West Lothian, and is the cousin of three-time IndyCar champion Dario Franchitti and his brother the well-respected sportscar racer Marino Franchitti.
He is described as putting in a strong year of Friday performances in his reserve role and, of course, with his recent DTM title success. He joined the team after testing in late 2009 and participated in eight free practice sessions in 2010 to learn the layouts of various F1 circuits.
Dr Vijay Mallya, chairman and team principal of Force India, said: "I am genuinely excited by the drivers we will be fielding in 2011. I believe that the combination of talent we've assembled gives us one of the strongest line-ups on the grid.
"Adrian has matured into one of F1's most consistent and highly-rated young drivers, while Paul is, I believe, a real star of the future. He has won in every category in his career and this base speed was in evidence when he got in the car on Fridays last year.
"With Nico, signing him was too good an opportunity to let by. He showed a good racing head and talent and I was amazed by his control in Brazil last year. Together I think they are a formidable partnership and will help take us to the next level of performance."