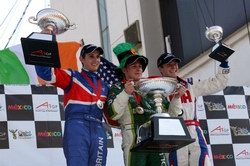 Brit Olly Jarvis and Ireland's Adam Carroll celebrate on the feature race podium
Adam Carroll scored Ireland's maiden win when A1GP visited Mexico City last weekend, while Oliver Jarvis grabbed a pair of second places to move Team GBR up to fourth in the overall standings.
Carroll, from Portadown, won from fifth on the grid in a feature race that began with a green flag because the starting lights system at the Autodromo Hermanos Rodriguez circuit had failed. The US came third, behind GBR.
His victory, on the day before St Patrick's Day, was built on sound pit work, as he moved from fifth to second in the first of the compulsory pit stops and gained the lead in the second one.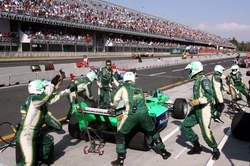 Sound pit work was the foundation of Ireland's victory in the feature race
The Irish team had scored consistently in the season's early races, but had slipped back in the recent contests. Carroll said: "Hopefully this is just the start and we will finish the year extremely strongly and try to come back and win the championship next year.
"I think everybody just saw our true potential this weekend especially with the guys with the pits stop. We knew they were capable of doing those times and today they pulled it off and it won us the race.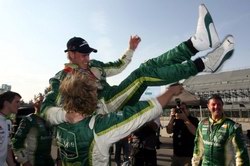 Team Ireland relaxed, raced, had fun – and won
"We tried to relax and just go racing and have a bit of fun. We still put in the hard work but I think everyone was just a bit more relaxed and we were able to show our true potential. We knew the guys could do it and they did and hopefully this is the first of many – it's just fantastic."
Jarvis, a winner at the circuit last year, had gone fastest in early practice sessions and was competitive all weekend. In the feature race he started fourth and grabbed an extra point for setting the race's fastest lap on his way to finishing second.
Earlier, in a sprint race restarted after an early eight-car collision, he had done well to hold off championship leaders Switzerland for second place without the help of his car's powerboost, which had used itself up in one go during the false start. New Zealand took the victory.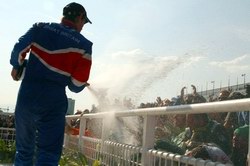 GBR's Oliver Jarvis took a pair of second-place finishes in Mexico
Jarvis said: "Mexico has been a fantastic place for me. I've had four great results here and we really wanted the win today but unfortunately Ireland just did a fantastic job, a whole team effort, but we are happy to go away with two seconds.
"It's some strong points and we will look forward to going into the last two races and especially Brands Hatch on 4 May."
He now hands over the car to Robbie Kerr for the final two races in Shanghai and Brands Hatch, with the British closing in on the third-place French.
Switzerland lead with 128 points, then New Zealand on 113 and France on 108. Britain have 95, South Africa 88 and the Netherlands 80.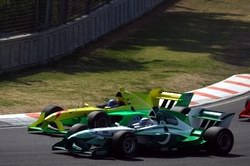 Pakistan's Adam Khan tussles with the Australian car
Pakistan's Adam Khan was not able to maintain his recent improved showing, suffering a weekend of repeated crashes.
In the sprint he was involved in an incident before the race even started, running into Germany as the cars bunched before the traditional rolling start and forcing a restart for the entire field. Second time around he was racing with France on the first corner when he was hit by Australia and was forced to retire soon afterwards with suspension failure.
The feature race was more painful – with half a lap left, and having qualified 17th, he was defending the 10th and final point-scoring position from the aggressive Neel Jani when the Swiss car made contact with his and Khan spun out.
The youngster from Bridlington said: "I'm not happy leaving with no points, I know I'm capable of regular point finishes, and it's extremely frustrating when a good performance from both myself and the team still leaves us empty handed."
A1 Team Pakistan team manager John Allen added, "I'm really disappointed for Adam and the team. Adam drove really well, we had good pit stops, his pace was excellent and his times were very competitive compared to the top ten"
Photos courtesy of A1GP