On the face of it, the sale of Caterham Cars to the Malaysian-owned Team Lotus Enterprises looks like another sad tale of an iconic British company being sacrificed to the ambitions of an overseas giant.
And there's no doubt that Team Lotus boss Tony Fernandes, the entrepreneurial owner of Air Asia, has pulled off a master-stroke as he battles for a foothold in the affordable sports car market against the equally Malaysian-owned Lotus Group.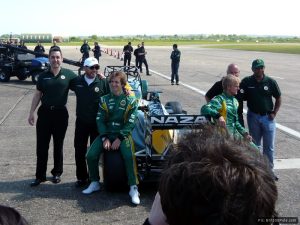 But that's only half the story – and not necessarily the most important part.
While the take-over undoubtedly suits Fernandes, the first move in the deal was actually made by Caterham CEO Ansar Ali who sees it as a way of guaranteeing the survival of the company in the long term.
Speaking at the announcement of the take-over, he said: "In 2007 we were celebrating fifty years of the Caterham 7 at Donington. I remember speaking to the public about how I felt very passionate that I wanted to make sure that Caterham Cars would be celebrating its hundred years in 2057. In truth, I wasn't totally sure Caterham would get to see 2057. I am now. Caterham will be around in 2057 and that's all that matters."
Ali had dreamed of expanding into Asia and the Far East since he led a management buy-in six years ago. He now plans to use the exposure F1 will offer and Fernandes' expertise in the Asian market to extend the reach of the company's cars into new parts of the world.
In particular, he has a vision of creating a direct and unbroken route from enthusiasts racing their Caterham Sevens right up to Formula One.
He said: "With Tony now we're literally the only manufacturer in the world who can deliver that experience. This was always my plan. It was just finding somebody with the same vision.
[youtube:http://www.youtube.com/watch?v=aGERIVg7ATE]
"I could only dream of a moment like this. Since the management buy-in we've been focused on the Caterham Seven – we wanted to share how much fun it is.
"Caterham is very personal to me. For the six years since I took over the baton from Graham Nearn the passion of this business has seeped into my skin. My responsibility to our workers, our customers and our fans goes beyond just business.
"When I met Tony I knew it was right, and the more I've got to know him, not only does it feel right, it is right. We will stick with the Chapman philosophy, which is what Caterham is all about."
Unlike the plans of Group Lotus to release new models in an attempt to challenge brands like Ferrari, there will not be a sudden flood of new Caterham designs. However, projects that have been little more than ambitions for the company may now see the light of day as a result of the take-over.
Ali said: "We're not going to come up with five different models, we're keeping to the Caterham philosophy and spirit. The Caterham 7 will evolve. We're very keen to continue developing the Caterham Lola SP/300.R. As well as them, we have one or two other projects we can look to start working on with Tony's backing."
For Fernandes, the approach from Ali came at a time when his ambitions towards Group Lotus were beyond salvage and he was, by his own admission, "trawling the internet looking for car companies we can work with".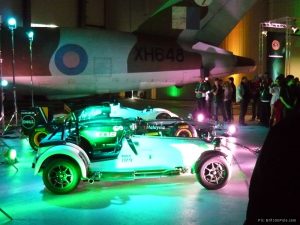 He said: "We always wanted to manufacture cars, and we always thought F1 provided a fantastic platform to do that.
"Caterham has a unique place in the world of motoring. There is such passion, energy and talent in that little factory. We'll unlock that talent and potential and let them out of their cage and do something amazing.
"We'll put F1 technology onto the Caterham package and hopefully more and more people who watch F1 will be sharing in that technology and have sports cars that are affordable."
Having build Air Asia up from small company to major player, he is looking at Caterham in a similar light: "The parallel of building something that can reach a much larger market is something we're very excited about, both at Caterham and at Team Lotus Enterprises.
"Caterham will make racing more and more accessible to a much larger audience. The marriage between Caterham and Team Lotus Enterprises is fundamental in that respect.
"Caterham will be able to reach a much larger audience through the F1 platform, and it's fantastic we have a company with such Lotus heritage. It's amazing how life has a way of bringing things together."