The financial future of A1GP has been secured, with funds available to pay existing creditors and see the series through the next three years, according to its boss Tony Teixeira.
His announcement comes at a point when demands from creditors, including at least one freight company and suppliers owed money when the British-based A1 Grand Prix Operations Ltd went out of business, looked set to topple its 2009/10 season.
However the announcement leaves a major question outstanding. Recent reports from industry bible Autosport have suggested that Teixeira was about to part company with his engine supplier Ferrari on the eve of the season's opening date in Australia.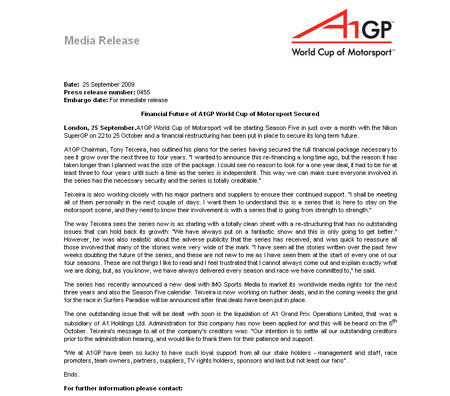 As you can see from the press release, the Ferrari logo that used to feature prominently in red under the main series logo has been removed although it is still used on the series website. The previous press release, sent out on August 21, also featured it.
From this it seems fair to conclude that there may indeed be a question mark over the partnership with Ferrari – and therefore over its supply of engines.
The release explains how a financial restructuring has been put in place to secure A1GP's long-term future and expansion over the next three to four years. But it gives no specific details of the package underpinning it or of the companies involved.
Teixeira says: "I wanted to announce this re-financing a long time ago, but the reason it has taken longer than I planned was the size of the package.
"I could see no reason to look for a one year deal, it had to be for at least three to four years until such a time as the series is independent. This way we can make sure everyone involved in the series has the necessary security and the series is totally creditable.
"I shall be meeting all [major partners and suppliers] personally in the next couple of days. I want them to understand this is a series that is here to stay on the motorsport scene, and they need to know their involvement is with a series that is going from strength to strength."
Presumably this is set to include a conversation with Ferrari.
He continued that his plans included starting again with a totally clean sheet to remove any outstanding issues that could impede its growth.
At the moment these include a UK court hearing on October 6 in which creditors of the defunct A1GP Operations Ltd, a subsidiary of A1 Holdings Ltd, will seek to prove that the series cars, currently being held by transport company DOT against substantial debts, are part of that company's assets and therefore available to help settle its debts.
But Teixeira is bullish about the series' future: "I have seen all the stories written over the past few weeks doubting the future of the series, and these are not new to me as I have seen them at the start of every one of our four seasons.
"These are not things I like to read and I feel frustrated that I cannot always come out and explain exactly what we are doing, but, as you know, we have always delivered every season and race we have committed to."
The release reminds readers that the series has recently announced a new deal with IMG Sports Media to market its worldwide media rights for the next three years and says Teixeira is "working on further deals".
It says the grid for the race in Surfers Paradise will be announced after these have been put in place – after problems with several teams including A1 Team Netherlands and A1 Team GBR, which went out of business in the spring.
Regarding the liquidation of A1 Grand Prix Operations Limited, Teixeira says: "Our intention is to settle all our outstanding creditors prior to the administration hearing, and would like to thank them for their patience and support.
"We at A1GP have been so lucky to have such loyal support from all our stakeholders – management and staff, race promoters, team owners, partners, suppliers, TV rights holders, sponsors and last but not least our fans"