Max Chilton, winner of the Challenge Cup for the top UK driver in British Formula Three, is to spend his winter in GP2 Asia after confirming he has a seat with Barwa Addax, one of the top teams.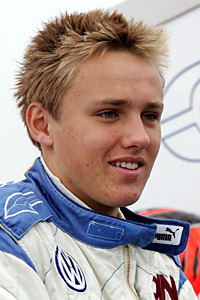 The 18-year-old from Surrey took a win and a second place in the final weekend of the British F3 International season at Brands Hatch and said then that he hoped to move up to the Asian spin-off from Formula One's main feeder series.
By announcing a partnership with Barwa Addax, which secured runner-up spot in the main GP2 series this year with Vitaly Petrov, Chilton has earned himself a golden opportunity to fast-track his career to the very brink of F1 – provided he can produce the results.
He said: "I've got a two-day test at Jerez on October 5 and 6 and then we fly out two weeks later for the first race in Abu Dhabi. I feel a little bit nervous because I haven't driven the car yet, but we'll see how it goes and if the team think I'm quick enough then we'll do the main series next year."
Chilton, whose elder brother is the touring car star Tom, became the youngest-ever British F3 driver when he raced on his 16th birthday in 2007. His ever-improving record saw him fourth overall in this year's British F3 championship, just 18 points off the runner-up spot.
He finished the year with three straight podiums, including one outright win and a class win for finishing the top British F3 International Series driver in a race won by guest competitors. He also competed once in World Series by Renault.
He said: "It's still only my third year in single-seaters, which people forget. Most drivers do a couple of years in other things before they go into F3. So I think I've done pretty well.
"I've had a lot of pole positions, eventually got my first race win. It's been a very enjoyable season with Carlin, and it's a shame it's ended but my career has to move on and I have to step up to bigger things."