Team Penske stamped their mark on the Honda Indy 200 by scoring a 1-2 in both qualifying and the race itself – but the luckless Justin Wilson came away with nothing despite a racy afternoon in the field's fastest car.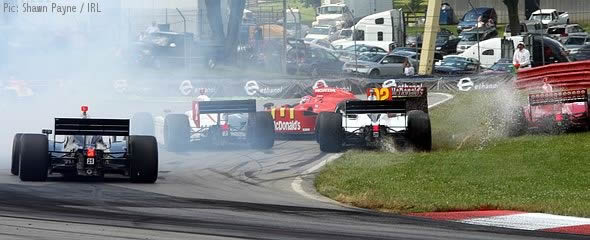 Ryan Briscoe and Helio Castroneves tip-toed through the after-effects of a downpour that had hit the Mid-Ohio Sports Car Course less than an hour before the race began, then locked off the result by getting the strategy right.
Castroneves had taken pole, but his winless streak – the longest of his career – continued as the timing of Briscoe's pit stops helped the Australian hit the front at exactly the right moment to dominate the closing laps.
Behind them, Scott Dixon took third to minimise the damage to his championship lead. KV Racing team-mates Will Power and Oriol Servia impressed by finishing fourth and fifth, while close behind them the top 10 was completed by Vitor Meira, Tony Kanaan, Darren Manning and Ryan Hunter-Reay.
Next, in 11th after a late-race charge through the field, came Wilson – a poor reward for qualifying fourth and leading the race on two separate occasions.
The Newman/Haas/Lanigan driver had used his greater experience in wet-weather road course racing to good effect in the early laps, after the field was instructed to start the race with wet tyres on a track that was already starting to dry out.
While drivers like Meira, Manning and Power helped themselves to eventual top-10 finishes by pitting immediately and changing to slicks, the leaders stayed out – and Wilson picked off Marco Andretti, Briscoe and Castroneves one by one to hit the front.
But his pitstop on lap five was slower than both Castroneves and Dixon and, emerging in third place, he misjudged his grip and ran off the track onto the grass. By the time he got back on he was down in 16th.
By now, Meira and Manning were leading – and they stayed there until lap 27, when the pits opened under caution following a spectacular rear wing failure for Mario Dominguez. Most of the field came in, but among those who didn't were Wilson and Dan Wheldon, who took over first and second.
Milka Duno span on lap 38, just as the pair were running low on fuel. Wheldon was unable to wait until the pit lane opened and was forced in early, but Wilson was able to pick his moment. The race seemed to be developing in his favour, but disaster struck on the lap 43 restart – he was clipped by Dominguez, span, and was hit by Wheldon, Andretti and AJ Foyt IV.
Of the four, only Andretti would be forced to retire – but for both Wilson and Wheldon, thoughts of podiums were over.
Meanwhile, up the front, Briscoe was leading while the underdog Dale Coyne Racing pair of Mario Moraes and Bruno Junqueira ran strongly – but when both faded the main challengers for the lead were the big guns of Dixon and Castroneves. The Australian outpaced them both to take a win that more than made up for his disastrous last two races, where he was twice knocked out by other drivers' errors.
"What a weekend for Team Penske," he said. "It really couldn't be better. It just feels so good to get this win. It's been a rough couple of weeks in the lead up to here, and this one's sweet for sure.
"What a comeback. It's all strategy from Roger Penske himself. I don't know if it's momentum, because the two races in the lead up to this one weren't so good, but hopefully we'll keep some momentum from here."
Castroneves said: "Ryan drove a heck of a race. I was just trying to do everything I can, and unfortunately I got held up in traffic. We just didn't have enough, so it's a shame, but second is good."
First would have been better from a championship perspective – Dixon did not seem particularly worried to have lost ground: "It was a good day for us, we started sixth – I think we only lost maybe five points in the championship."
Manning had qualified near the back of the field, so was more than pleased with a top-10 finish courtesy of his very early pitstop: "It was a good race for us considering where we started.
"We discussed pitting straight away before the race because I don't mind being on the wet with slicks. We made the right decision, coming out second. Our first stop was a tad slow, and we lost three spots, but overall the ABC Supply crew did a great job for me today.
"Towards the end, when everyone's fuel load got down, I was a bit off-pace and Kanaan got me when I had to burp the throttle because it pushed a bit, but it's another top-10 for us. It gives us good momentum going into Edmonton."
Edmonton is a track where Wilson and his team are pinning a lot of their hopes for a victory – racing in Champ Car, Wilson won there in 2006 for RuSPORT and Newman/Haas/Lanigan took the win with Sebastien Bourdais in 2005 and 2007.
But he'll go there without the momentum of a strong result behind him. Reflecting on today's race, he said: "The McDonald's car was quick from the start so we were passing people and working our way up to first.
"I got into the lead and then it was time to pit to change from rain tires to slicks. After I left the pits, I was in a damp part of the track and spun off one of the rear wheels, then it grabbed and turned me hard right. We were just trying to play catch up from that point on.
"We stayed out on a yellow and regained the lead and opened up a nice gap and thought we were in good shape. The team started the countdown of laps until I pit and the lap before we were due in the yellow came out and just squashed the nice gap that we had. The timing couldn't have been worse.
"We thought we would come out much higher in the field than what we were. That meant that we were right at the back of the pack and trying to pass cars. We had one backmarker that said he was going to let me by on the restart so when it went green I thought he was going to let me by at the last corner and just punted me around.
"That lost us a lap and bent the car so it was a hard battle from then on to get back on the lead lap. It's really frustrating because I feel that we were doing a beautiful job and should have been up there in the top four or five."
Wheldon said: "A tough day for the Target team today. We were obviously on another strategy and we were doing alright and minding our own business. On the restart, Wilson and Dominguez got together and I got hit from behind. There was really nowhere to go so it's unfortunate. We came into the pits a few more times to top off and make sure we could run the remaining laps and get the most points available to us."