Team Ireland got off to the best possible start in their battle to defend their A1GP championship lead by seizing pole position in both the sprint and feature races at New Zealand's Taupo circuit.
Team driver Adam Carroll, fresh from taking on the world's best at the Race of Champions before Christmas, beat the Netherlands' Robert Doornbos and Portugal's Filipe Albuquerque in both qualifying sessions.
The Portadown native said: "I got four good clean laps in and we were quick. It was a good run – it is a tricky circuit to put in a nice quick lap with no mistakes.
"I put the new tyres on but you don't really know what the grip levels are going to be or where you are going to be. You have just got to push hard and hope you are going to be at the front and put a nice tidy lap in at the end.
"The circuit just doesn't have much grip so when you try hard you can have a spin or run wide, things like that. That is what practice is for, you push hard just to find where everything is."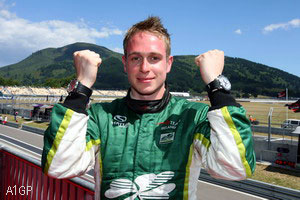 Safety concerns at the first corner have led series organisers to abandon the planned rolling start in the sprint race – much to Carroll's disappointment: "A standing start is always tricky as these cars are quite difficult to get off the line and I haven't really done a good start yet. I wouldn't have minded a rolling start at all."
The starting method is somewhat academic for Team GBR debutant Dan Clarke, who qualified on the seventh row of the feature in 14th place and the eighth row of the sprint race in 15th.
The first of the two sprint qualifying sessions offered hope of a better outcome, as Clarke ran ninth fastest on new tyres, but he could not improve his time in the second session and slipped back. He suffered the opposite fate in the two feature race qualifying sessions, improving his time but not his position.
For Clarke, who is standing in for Danny Watts and drove the Ferrari-inspired A1GP car for the first time this weekend, qualifying was a further opportunity to acclimatise himself. He said: "This morning we focused on practicing a lot of pitstops and starts and really looking at preparing for the race. We used old tyres from yesterday and it was not bad.
"The qualifying format is interesting as it is quite exciting but was challenging for us as it was really my first time on new tyres. Overall we felt we could have been higher but we spent the rest of the day looking at the data and we understand what we need to do to go further. We have a few tricks up our sleeves and are quite positive for tomorrow."
Team boss Katie Clements said: "Our qualifying positions are not ideal, but we know that we have a good car and that the potential is there.
"It's always hard for someone to come in new to our qualifying format with a relatively little amount of time testing, especially as he has been out of a racing car for 14 months and wasn't eligible for the rookie sessions. The races are long tomorrow and our aim is to work our way into the points."