Adam Carroll recorded Ireland's third victory of the season in A1GP's New Zealand sprint race – but Dan Clarke's hopes of recovering from a disappointing qualifying were dashed when he was forced to dodge a spinning Brazilian car on the first lap.
Carroll and Dutch driver Robert Doornbos made clean getaways from the front row, but further back there was trouble as Monaco and Brazil made contact, forcing Clarke to almost stop the British car in order avoid hitting Felipe Guimarães' machine.
Portadown's Carroll drove a confident race to the flag and victory but Doornbos lost second place in the pits to reigning champions Switzerland and their driver Neel Jani, who was making a remarkable comeback following 12 days bedridden with a viral infection.
Carroll said: "It was a great race, obviously, to win from pole – I am very, very happy. It is a hard little circuit and easy to make mistakes. If you push hard, miss your braking or go wide it is really dirty off line. There are some interesting bumps in some quick corners that unsettle the car and you have to work hard all the time."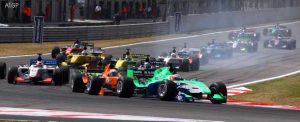 A morose Doornbos said mechanical problems had cost him time in the pits: "When I was on the in-lap the pit limiter just dropped me down to 20 instead of 60. The pit stop went okay I think, but then as I went to pull away we had the same glitch with the software that went into anti-stall, and just would not get first gear. The seconds felt like minutes and I think I lost four or five crucial seconds."
Clarke was forced back to 18th by the early incident with the Brazilian car, but was able to rejoin the pack and pick up some places to cross the line 13th. A post-race penalty for Monaco promoted him to 12th.
He said: "The Brazil car went into a half spin and stopped in the middle of the corner across my path. I couldn't get out of the way and there were cars either side so I was unlucky to get stuck there. I just had to race on and we stayed out late before stopping to get in a couple of quick laps.
"After a great pitstop from the guys, we were able to jump a few places in the pits. I came out about eight car lengths behind USA, managed to chase him down and was on his bumper but yellow flags prevented me from making a pass. Our fastest lap wasn't far off the quickest overall so we've made a jump in time from qualifying."