Do not adjust your television sets: David Coulthard's Red Bull Racing car has been repainted white for the final race of his career to promote spinal cord injury charity Wings for Life.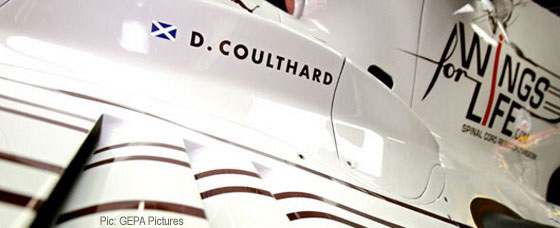 Strict rules usually prevent teams from running two cars with different liveries at the same race, but Coulthard was given permission by all the other teams on the grid to mark the last of his 246 races in this way.
"I dedicate my last race to the vision of making paraplegia curable," he said. "I was lucky more than once in my career when I walked away from crashes. I know that many aren't as lucky as me, so I want to express how grateful I am that I have the ability to walk and run.
"In Formula One success is determined by a few seconds, in medicine people think in terms of years. But in both disciplines, ambition and commitment are crucial factors that are needed in order to reach the finishing line as soon as possible.
"Wings for Life helps to accelerate the breakthrough in spinal cord research."
The Wings for Life Spinal Cord Research Foundation works globally to promote research leading to a cure for spinal cord injury paralysis. Its most basic goal is "a life without wheelchair".
Backed by Red Bull and set up with the help of boss Dietrich Mateschitz, the charity includes Toro Rosso's Gerhard Berger and ex-F1 driver Robert Doornbos as ambassadors. Last year, Red Bull Racing supported it by running at Silverstone with thousands of photos on their cars, each the result of a £10+ donation by a fan.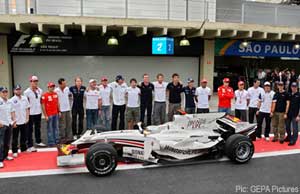 Coulthard, whose closest brush with serious injury came in an aircraft crash that killed his two pilots, said: "It is great that at the last grand prix we had permission from all the teams to run my car in an independent livery.
"I think this is a first in this modern era of Formula One, although I am sure it might have happened decades ago.
"I think in a lot of cases people imagine that it is extreme sports where most people suffer from those sorts of injuries but the statistics show this actually only accounts for about three per cent.
"All of the other injuries, about 130,000 people a year, find themselves confined to a wheelchair through household injuries, car crashes, everyday life.
"Currently there is very little government funding for this type of research and the pharmaceutical companies are not interested, of course, as you can't buy a pill to cure spinal cord injury.
"It was founded by Dietrich Mateschitz who obviously is the founder of Red Bull and Heinz Kinigadner whose son suffered a spinal cord injury in a motorbike accident. All of the money that is raised through public donations goes to fund various institutions throughout the world and works with other foundations, like the Christopher Reeve Foundation, to find a cure for spinal cord injuries."