Even as today's crop of Formula One stars were on track for Belgian Grand Prix qualifying, the car driven to victory at Spa more than 50 years ago by one of the all-time greats was drawing a crowd of admirers.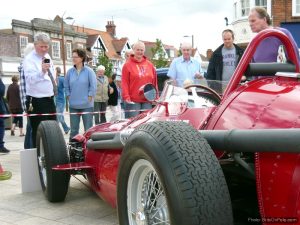 Argentinian world champion Juan Manuel Fangio's Maserati 250F was the centrepiece of a display of classic cars that brought petrolheads flocking to the town centre in Letchworth, north Hertfordshire – as well as turning the heads of passing Saturday shoppers.
During the 1954 season the five-time F1 drivers' champion won the Belgian and Argentinian Grands Prix in it, triumphing over the likes of Stirling Moss, Mike Hawthorne, Nino Farina and Prince Bira of Siam, before finishing the rest of the year – and winning the title – in a Mercedes.
More recently the car – one of only 26 ever made – is reported to have changed hands for £2m. It was one of about 25 vehicles taking part in the show, ranging from a pair of Austin Sevens to a 1973 Ferrari Dino.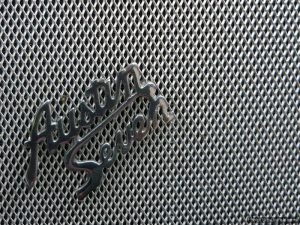 The majority of the cars came from the Letchworth Garden City Classic and Vintage Car Club, but their numbers were swelled by a local enthusiast who brought a number of privately owned vehicles including the Who's Magic Bus – complete with scrawled autographs by the band – and the Maserati.
The event was organised to promote the town by Di Adkins of the Letchworth Garden City Town Centre Partnership, and marshalled by town centre manager Lee Boswell.
Taking a moment's break from chasing onlookers out of the classic Jaguar and laying out cardboard beneath the cars to protect his pale stone pavements from oil leaks, he declared the event a success:  "We've had people we don't usually see coming into Letchworth here, and hopefully they've enjoyed the day and what we're offering."
Photo gallery
Click on the thumbnails for the full-sized photos.