Edit: Since this was written, Mike Conway has joined IndyCar team Andretti Autosport and Oliver Turvey has signed with Ocean Racing for at least GP2 Asia.
It's only January, but we thought we'd take an early look at which British drivers will definitely be racing this season, and where.
After all, in the last few days Paul di Resta has finally been confirmed with F1's Force India, while Jolyon Palmer and Max Chilton have signed to spend the year in GP2 and GP2 Asia.
But while they can breath a sigh of relief at knowing where they stand for the next 12 months, few of their rivals share that luxury.
For only at the very highest levels of Formula One and the IndyCar Series – and not always even there – can successful drivers be certain of year-to-year job security.
As di Resta's new reserve team-mate, the ex-Williams driver Nico Hulkenberg, discovered last year, very few drivers have no need to keep an eye over one shoulder in case someone with a bigger cheque fancies sitting where they're sitting.
And some deals that were definite fall apart for other reasons, such as the unfortunate F2 champion Dean Stoneman who has been forced by ill health to surrender a Formula Renault 3.5 drive for this year.
For everyone else the off season is a time spent hunting for funding and sponsorship, and for the team and championship that will make the precious cash go furthest.
That means some deals only happen on the eve of the season, while others that did seem solid simply melt away.
So, a lot still to be decided over the coming couple of months. But what do we know so far?
Formula One
Lewis Hamilton and Jenson Button, McLaren
A bit of a no-brainer, this one – the day will doubtless come when one or other of these former world champions will find their seat under pressure from some pushy youngster, but it hasn't happened yet.
Both will be hoping that the plentiful experts back home in Woking will have produced a car one step closer to the front than last year, and each will be determined to be the one who gets the most from it.
But neither will have wasted too much time in worrying about whether they would be on the grid at all this year.
Paul di Resta, Force India
The long anticipated elevation of reigning DTM champion di Resta from his test role at the Silverstone-based team to a full race seat at the expense of Vitantonio Liuzzi was announced last week.
And expectations are pitched pretty high for the Scot, who could easily have found himself consigned to another year as reserve when Hulkenberg became available. Instead it's the German, tipped as a future world champion, who must cool his heels in the garage and wait his chance.
Di Resta's touring car exploits demonstrate his speed and competitiveness, and his fans are very keen to point out he had the beating of Sebastian Vettel when they were team-mates and rivals in F3 Euro Series.
First, though, he will have to see off the challenge of Force India colleague Adrian Sutil – an intriguing battle given that when the experienced Sutil is good he's very good, but when he's bad he's more than beatable.
Anyone else?
Not that we know of, but you can never be entirely sure. After all, it's not like anyone expected to see Narain Karthikeyan again. Last year, well-sourced stories suggested that the former Honda tester James Rossiter, who looked for a while like he was headed for the IndyCar Series, was also in discussions with the ill-fated USF1 outfit.
There are very few places left on the grid for next year – but Hispania still has a seat available, and given the team's financial situation it's likely to be awarded not on merit, but on finance. No obvious name springs to mind among the Brits qualified to drive at that level, but could there be someone out there with an obligingly deep-pocketed sponsor? Unlikely, but not impossible.
IndyCar Series
Dario Franchitti, Target Chip Ganassi Racing
Franchitti is IndyCar aristocracy, having competed in three of the last four seasons and won the championship each time. The other year was spent coming a cropper in NASCAR, so it's unlikely he'll want to go a-wandrin' again any time soon.
He's showing no sign of losing his enthusiasm for single-seater racing, so can he win yet another title? Well, he's certainly with the right team as Ganassi have demonstrated the ability to get the right results when they're needed, even though great rivals Team Penske might have seemed stronger for long stretches of time.
No other team will get a look-in this year – they're all waiting for the arrival of the new series car in 2012 when maybe, just maybe, opportunities might open up to challenge the likes of Franchitti. Chances are, he'll want to be there to put them firmly back in their place.
Justin Wilson, Dreyer & Reinbold Racing
Former F1 pilot Wilson was establishing himself at the front of the Champ Car field when that series folded into the IndyCar Series and he was pitched into a period of uncertainty, driving for three teams in three years.
Widely respected across the series for both his on-track skills and his off-track personality, Wilson nevertheless struggled for employment as he was not able to bring funding with him at a time when few seats were available at the the small number of teams that could afford not to worry about that sort of thing.
One of the very few drivers outside of the Penske, Ganassi and Andretti teams to actually win a race in recent years, he scored one each for Newman-Haas and Dale Coyne before the streak dried up at Dreyer & Reinbold last year. Despite that, he's back with them again this year and is likely to benefit from the stability.
Anyone else?
Yes – lots. The biggest name on the list is 2005 series champion and Indy 500 winner Dan Wheldon, currently a free agent after leaving Panther. Alex Lloyd put in a more-than-respectable performance last year for Dale Coyne, but money is always tight at that team and he'll likely have to sweat for a while before he knows whether he'll be back.
Mike Conway was improving steadily at Dreyer & Reinbold before a horrific crash in the Indy 500 ended his season – he's ready to return, but you'd have to think if D&R were having him back they'd have announced it by now. Jay Howard did not have the best of times in his limited outings for Sarah Fisher's team and may struggle for another seat, while Adam Carroll has the goodwill of the Andretti family and two solid outings last year to his name – but will it be enough?
James Rossiter is rumoured to be in the running at KV/Lotus again, while former Champ Car racer Katherine Legge is back in Indy looking for a drive after a couple of years in DTM. Actively trying to make the jump up from Indy Lights are Martin Plowman and Pippa Mann, with Dan Clarke and Stefan Wilson likely to be trying also.
Expect some of them to be on the grid for at least the Indy 500 and perhaps the whole season. But not all of them.
GP2
Sam Bird, iSport
Last season's top ranked GP2 rookies were the ART pairing of Bird and Jules Bianchi, and both will be back for 2011 – but Norfolk-based iSport will be the Englishman's new home for the season.
In F3 Euro Series during 2009, and then during last year's GP2 Asia and the early rounds of the main series, Bird looked quick without ever really producing a break-out performance. But then came Monza, when he won the feature race, took a podium from the partially reversed grid of the sprint, and set the fastest lap in both.
A post-season test with the Mercedes F1 team went further towards marking him out as one of the drivers to watch this year, and he'll be mounting a serious assault on the GP2 title with the ambition of making the leap into the big league for 2012.
Just as last year, this site's parent company, Onlineability, will be responsible for maintaining Sam's website through the season – but unlike last year he won't have the BritsOnPole.com logo on his car, as we are choosing to publicise another of our websites. Maybe it'll be back in F1 in 2012!
James Jakes, Coloni
One of the minor surprises of last year was seeing Jakes competing in GP3 rather than GP2, as he'd been successful in GP2 Asia for the previous two seasons and was due a run in the main series. Nor did he impose himself on the lesser series as might have been expected, although a hand injury that cost him seat time affected his ultimate championship position of eighth.
His new team, Coloni, had a pretty dismal time of it last year and managed only four top-six finishes despite fielding some quality drivers towards the end of the season – including Jakes himself for the very last event. It's likely, then, that he and new team-mate Michael Herck will find it difficult to make a regular impression on the points.
But at least he's there at last
Jolyon Palmer, Arden
Palmer, the son of ex-F1 driver and circuit owner Jonathan, looked very much at sea during his debut Formula Two season in 2009, when he was considerably younger than most of his rivals. Last year, older and wiser, he battled eventual champion Dean Stoneman to the very last event and turned in some performances that had his critics eating their words.
The step up to GP2 will be a big one – his father is quoted as saying it will probably take "several seasons" for him to be competitive – but he's already demonstrated an ability to learn, so he shouldn't be written off if he struggles at first.
Last year Arden were competitive with Charles Pic, who won the opening race of the year, and are likely to be able to give Palmer the support he needs to maximise any opportunities he creates. In time, they'll come.
Max Chilton, Carlin
Chilton raced last year for Ocean with the explicit aim of learning the GP2 ropes as an investment in his future success.
Given that results weren't expected last season, he did well to score points at both races at Monza – the more so since, as for much of his career, Chilton was competing against mostly older and more experienced drivers.
His aim this year is likely to be to continue his development by moving into the midfield and challenging for points more often.
With the high cost of participating in the series this year, it makes sense he should return with new entrants Carlin, a team in which his father has a financial stake. His team-mate will represent a stiff test for him – he will line up with Mikhail Aleshin, who triumphed in a tough three-way battle for the 2010 Formula Renault 3.5 title.
Anyone else?
So far, there's no word of where Oliver Turvey will line up – or even if he'll be able to afford the 2m+ Euro price tag of a drive now that he's no longer supported by the Racing Steps Foundation. With his track record and his strong links to McLaren, it would be both a surprise and a disappointment if he doesn't end up somewhere good.
Adrian Quaife-Hobbs, who started last year in F3 Euro Series before switching to GP3, looked quick when he took part in the winter GP2 tests. He could be in the mix when the season starts, although another year of GP3 or a move to Formula Renault 3.5 are also possible as he impressed in October testing for the latter series.
GP3
Alexander Sims, Status GP
In the past, French team ART Grand Prix ran a conveyor belt that took its drivers from the F3 Euro Series to GP2 and then off in the direction of Formula One – but then came GP3, inserting itself at the same level as F3 with three cars per team and creating a glut of ART drivers looking for promotion.
Sims and his backers, Gravity Sport Management, have therefore struck out alone and joined last year's GP3 team runner-up Status GP where they will want to mount a serious challenge for the title as a means of staking a claim for GP2 in 2012.
Like Oliver Turvey, Sims is a former holder of the McLaren Autosport BRDC Young Driver Award and is hotly tipped for future stardom – hence the involvement of the ambitious Gravity outfit. Last year's results were not what he expected, but in conversation with BritsOnPole he made clear his determination to get back on the road to success.
James Calado, Lotus ART
ART Grand Prix will run this year in GP2 and GP3 in the colours of the Lotus Group as the battle between the two companies laying claim to the Lotus name infects the junior championships on the path to F1 – and the very first driver announcement for 2011 was their signing of Calado.
It's a canny move for the Brit as it puts him in a team that could, if he fulfils his ambition of winning the title, carry him on to the vastly more expensive senior series without having to rely on the charity of the Racing Steps Foundation any further.
Calado spent last year in British F3 with the dominant Carlin team, where he scored a number of wins on his way to finishing a distant runner up in the championship behind colleague Jean-Eric Vergne. His new team has the potential to crush the opposition in a similar way to his old – but this time he'll want to be the one out front.
Nick Yelloly, Atech CRS
Atech finished seventh of 10 in the teams championship last year but did rather better in Formula Renault UK, where Nick Yelloly scored a win and two other podiums as his contribution to their runner-up spot. It was enough to convince the team of his talent, and they've boosted him up to GP3 in the expectation he will continue to develop.
The 20-year-old is likely to take some time to come up to speed in the more competitive environment he now faces, but cites a racer's mentality, an analytical brain and a strong work ethic as the means by which he expects to overcome what he accepts might not be the greatest natural talent in the field.
Both he and Atech know they face a big challenge – but they are also confident of surprising a few people along the way.
Anyone else?
Very likely. 2009 McLaren Autosport BRDC Young Driver Award-winner Dean Smith raced in the series last year, as did Oli Oakes, and Smith's successor Lewis Williamson has said he is interested in the championship if he can raise the budget. Adrian Quaife-Hobbs also can't be ruled out, while 2007 Formula Ford champion Callum McLeod and British F3 racewinner Oli Webb has also tested with the series.
Formula Two
Jack Clarke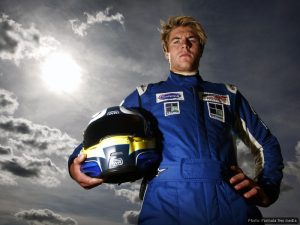 In the first year of Formula Two Clarke was among a cluster of British drivers who could usually be found trailing home some considerable distance behind the leaders, but in the second season he stepped up to the point where he was challenging for the podium regularly.
Strong winter testing performances suggests his third season could be the one in which he competes for the title.
So far, his time in the series has been characterised by far more than his fair share of bad luck. In the first season he had the misfortune to be involved in the incident that killed Henry Surtees and, while nothing quite so awful happened again, in year two he lost a number of potentially strong results to issues not of his own making. He'll be hoping third time's a charm
Alex Brundle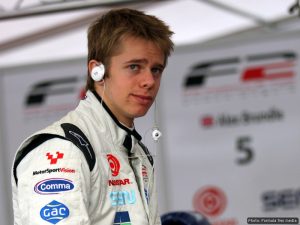 Brundle, son of the F1 driver and journalist Martin, was usually – although not always – among the back-markers in the first season of Formula Two in 2009 where his top finish was fifth at Spa.
From there he went to British F3 in 2010, but his T-Sport car was rarely competitive and he finished 17th of the 18 drivers to compete in all the season's events. This also left him near the foot of our All-Star League of British drivers, ahead only of a few who didn't race full seasons.
However, he took part in F2 winter testing late last year and set some respectable times, finishing fastest of all on one of the days. He says he feels a lot more comfortable back in the Formula Two car and is looking forward to applying everything he's learned over the past two campaigns.
F2 boss Jonathan Palmer says he expects Brundle to challenge for the title this year. Such a feat would represent a remarkable step forward in achievement – but no greater than that managed by Palmer's own son last year, so it's far from impossible.
Anyone else?
F2 fields have so far tended to comprise of a mix of a few strong drivers entering the series with reputations built elsewhere, some graduates from Formula Palmer Audi, and a large number of unfamiliar drivers gathering from all four corners of the globe thanks to the reasonable price of competing.
The first category last year included Will Bratt, who is GP2 standard but has not so far been linked with any series and may therefore be on the verge of being announced as an F2 returnee.
Winter testing saw Formula Palmer Audi champion Nigel Moore (older brother of the hotly-tipped Sarah) and BRDC Rising Star Daniel Cammish both take part. Moore in particular is a near-certain participant, though not yet officially announced, as his FPA title prize includes a £100,000 scholarship to F2 – almost half the cost less VAT of taking part.
Who does that leave?
Several names who ran full seasons last year are as-yet unaccounted for apart from Bratt, whose inclusion in F2 above is pure speculation. Duncan Tappy, who scored podiums last year in both Auto GP and Superleague, has always struggled to find the funds to go racing but remains ambitious. No Superleague drivers have yet been announced, but it would be odd if two-time runner-up Craig Dolby did not return. Both James Walker and Jon Lancaster saw their reputations take a dent last year, but both still have much to offer while Greg Mansell, son of Nigel, will likely bob up somewhere.