Rockingham Motor Speedway, the UK's only major oval-style racing circuit, and also the country's youngest, is celebrating its 10th birthday this year.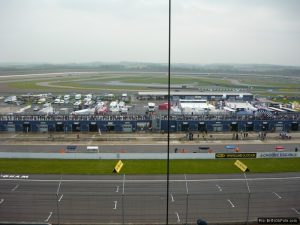 Rockingham opened its doors on Monday January 15 2001 following almost 10 years of planning and nearly two years of construction work. It was officially opened by the Queen later that year.
As it did so, it became the first purpose-built race track in the UK since Brooklands opened in 1907. As the venue points out on its website, it has transformed an industrial wasteland left by a former British steel works into an asset for the people of Corby and Northamptonshire.
Rockingham is Europe's fastest banked oval racing circuit, with the lap record for the 1.5 mile oval set at 24.719 seconds by Tony Kanaan in his Ford/Lola Champ Car on September 2001 during a visit from the US Champ Car World Series.
While capable of operating a full oval, most racing takes place on an infield road circuit that incorporates roughly a quarter of the banked track.
Series that have visited over the years include British Superbikes, British Formula F3 and the British GT series – although the annual visit of the BTCC is one of the circuit's current highlights, usually attracting large crowds. It also hosts the Rockingham Stages rally.
And it's not just racing – Rockingham also hosts manufacturers' events, track days, driver training, and corporate or retail days as well as testing and race events. It has also become the UK's first environmentally-conscious circuit with all off-track activities becoming carbon neutral and has managed to reduce its energy usage by more than 40 per cent.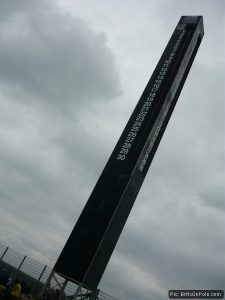 Charlotte Orton, Rockingham's director, says that the venue is focusing on continuing to grow the business and on developing an educational programme to provide young people with a unique learning environment. Rockingham has forged strong links with academic and industry partners and has been involved in a variety of projects including the Rockingham Festival and the Shell-Eco Marathon.
She added: "We cannot believe Rockingham is 10 already! It has been an eventful first decade and we are really looking forward to celebrating the next 10 years."
• Rockingham is holding a logo design competition to celebrate its birthday. Open to entrants of all ages, it invites designs which show a favourite aspect of Rockingham or a vision of the circuit in the future.
It should incorporate the current Rockingham logo as the main component (this cannot be modified), include the number 10 somewhere within the design and work on any colour background. Apart from that, it's up to you!
You can check out Rockingham's brand guidelines and colour palette here. The winner will receive a family season ticket and a commemorative item incorporating their design.
Each person shortlisted will get a free ticket to a Rockingham race meeting. Entries should be sent to Rockingham 10th Anniversary Logo Competition, Rockingham Motor Speedway, Mitchell Road, Corby, Northants, NN17 5AF or marketing@rockingham.co.uk.
All entries must include full name, age and contact details. Closing date for entries is 5.30pm on Friday February 25. The competition will be judged by the Rockingham team and the winning entrant will be notified by Friday March 4.