It's been an an eventful year for Hannah James and the YourRacingCar crew. We thought that, with a new season on the horizon, it would be the perfect time to catch up with our friends at the Milton Keynes-based outfit and find out how they've been getting on.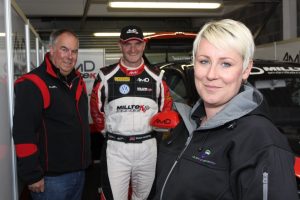 Here's what team principal Hannah had to say about racing, healthy eating – and a great big tent:
In the end, 2010 turned out to be quite an eventful season for YRC – sum up for us what happened, and how you came to be competing in the BTCC.
We chose the Renault Clio Cup for the 2010 season, it held a lot of promise but didn't deliver on an entertainment, publicity or racing front. I think under its new management there will be a new lease of life and things will be on the up for that championship.
However, we jumped ship with the support of our YRC Members and much encouragement from our business supporters – who contributed greatly to the funding of the BTCC launch at Silverstone in August. We decided to move to BTCC earlier than expected because we were terrified of losing the momentum the club had built up and it was just the thing we needed.
A bit of worry usually pushes you to make gutsy decisions so I'm pleased now how things worked out. We gained the support of AmDMilltek after Silverstone and the rest is writing itself as we speak.
It looked like a wild ride at times – now there's a bit of distance between you and the season's end, how do you feel about it all?
Amazing. We made it through another season and despite all the challenges and emotion attached to last year, it worked out for the best. We worked with three drivers, three cars, and three teams – all in one year! Not the way we planned it but you have to seize opportunities as they present themselves and get on with it – we're still fans, so I hope we're making the decisions that our members would make if they had faced the same situations.
What are your plans and ambitions for 2011?
Well, we're partnering AmDMilltek Racing in the BTCC with the iconic (and really pretty) VW Golf and it's a different direction for us. In these times, pooling resources is the smart way to go, and we're working really well as a unit so far.
Are the YRC members still an important part of the project?
More so than ever. I'm still haunted by the naysayers who made it pretty clear they believed (and still do) that YRC as a concept would fail. Not on my watch! I still really believe in it and the dream of fully funding an entry into the BTCC might be a way off but we're getting there, one YRCer at a time.
YRC was present at Autosport International this year – what was the buzz?
Gatecrashing! We've got nothing in the purse for marketing, so we have to be fairly inventive about how we get the word out – however this time, there was no need. Milltek Sport very generously made space for us on their stand, which is their principal marketing channel, and we simply tried to introduce new people to the YRC way. We actually spent a lot of time catching up with returning YRC Members which was really nice too.
We understand that some of the YRC management may have ventured into showbusiness during the off-season. Can you tell us more?
Vicky is an amazing talent and has been taking part in theatre productions for years – her place is on the stage but we all got involved in the pantomime this year and believe me, it took over our lives completely. My job was very important as I was crew member in charge of selling fluffy, flashy stuff to audience members for the run – I am now Milton Keynes' expert on wands and tiaras.
Is there a race or event that you're particularly looking forward to in 2011?
Thruxton. Always. It holds more memories than any other circuit in the UK and they're the nicest people in motor racing. They're generous to our members (massive ticket discount for the BTCC) and the racing is always a hoot. It's a rustic place and it never fails to remind me what I love about our sport.
If there was one 2010 mistake that you're hoping to avoid in 2011, what would it be?
Eating too much fast food at race weekends and paying for it all winter as I try to shift it. Luckily our new YRC Fans Dome is going to put an end to being tempted by the deep-fried delights we get into a routine of troffing – we've got amazing food in the dome this year from Saturday first thing so no need to visit other establishments!
We know that guerrilla marketing is a big part of the YRC concept – what do you think has been the best profile-raising idea from a member or one of the crew?
The Dome – without a doubt. We love it and hate it in equal measure because it ain't half a git to put up but it's given us a presence trackside and in 2011, somewhere for fans to meet too. We wanted something completely different to the usual truck and awning and, despite it being hard work, we love it. A friend of mine from school made it for us and Kevin built the floor so it's YRC blood, sweat and tears.
There are lots of reasons why 2011 might be a tough year for all forms of motorsport. From your position as YRC boss, how does the industry's immediate future look to you?
In terms of the wider motorsport arena, it's going to be very tough. There is some money around which means the disparity between the haves and the have-nots has never been wider in my experience. I just hope that the organisers can manage it so that the rich don't simply run away with the shiny stuff all season long and that goes for every formula.
From a YRC perspective, it's great! We have to be prepared to get even more creative and I think the one thing people need to realise is that chucking money at motorsport doesn't always get you what you want – lucky for us as we don't have any! You can't buy fan loyalty – you need to earn it.
My philosophy is the fans come first and the racing second – what on earth is the point in getting a victory if there's nobody to share the excitement with? Now we have a chance at both!
• You can follow the YourRacingCar.com season at its website here. And don't forget to check out membership details here. Adult membership is £25 and junior £15, plus P&P in both cases and there is also a business membership scheme – this site was a member last season.