Liverpool shared the honours with Beijing Gouan in Superleague Formula's two Belgian races today, while Duncan Tappy and Craig Dolby grabbed second places for Spurs and Anderlecht.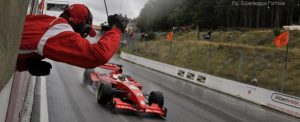 The Chinese team now leads the football-themed series championship by 14 points from PSV Eindhoven, with Anderlecht and Liverpool in third and fourth and Seville and Tottenham next.
In the first race, Borussia Dortmund's polesitter Paul Meijer lost the lead to Dolby on the first lap and the Englishman held the place until the pitstops, Liverpool's Adrian Valles working his way to the front by the time they had finished.
Tappy's race was wrecked by an early puncture, but Rangers' Ryan Dalziel managed eighth place.
Valles said: "I want to thank the team and Liverpool for trusting me to drive their car. I was able to give them a victory today and I hope this is not the last time this season.
"I had trouble getting temperature into my first set of tyres and was losing a bit of advantage from the guys in front but the team called me which was a good strategy and our other set of tyres were much better. Straight away I was 1.5 to 2 seconds faster per lap and that is what I think gave us the win."
Dolby, who was also runner-up in both races in Germany, said: "We've got everyone here, the whole football team, and it feels great. At the moment we are very consistent and moving up the championship – there is no reason why we can't fight for the title.
"We had a good race and led until the pit stops. We had an OK stop and unfortunately we came out in second. Points make prizes so to sit here three times in a row in second place is fantastic."
Race two was run under a completely reversed grid, and that put Beijing's Davide Rignon and AC Milan's Robert Doornbos on the front row following their first-lap collision in the sprint race.
Rignon seized the lead on the first lap and dominated the race from there on, with Tappy picking his way through the field to second. Valles fought through from his back-row start to bring Liverpool home sixth.
The Beijing driver said: "I started very well and I was able to get past Robert at the first corner. It was bad in the first race when Robert hit me. Nobody could see anything and I lost a lot of points in the first race.
"I spoke quite a bit with my engineer during race two because sometimes it is easy to make a mistake when you have nobody pressuring you, but I had a good feeling with the car – it was no problem. It was very easy for me."
Not so easy for Tappy: "It wasn't easy at all – a very hard race. It is great to be back on the podium, it is the only place where racing drivers want to be. It is also great for Tottenham Hotspur because the club needs a bit of good news at the moment.
"It was a brilliant race for me, I really enjoyed it. The first race wasn't enjoyable at all, I couldn't see anything – it helped to have the right visor for race two. It was really good to do some overtaking and end up in second position, I am very happy."
Less happy was Dalziel, who retired in his pit box on the second lap, while Dolby's charge up the standings ended in eighth place when he pulled up on lap 19 of 25, suffering from a transmission failure.
The fourth round of the six-round series will take place in Estoril, Portugal, on the weekend of October 18/19.