A1GP took the first step towards putting its troubles behind it by serving up a close and exciting qualifying session for the first race in its delayed season.
Home favourite Jeroen Bleekemolen took pole for the Netherlands after battling against Ireland's Adam Carroll for the whole of an hour-long session that saw times tumble as conditions improved and teams grew more confident with their new cars.
A late flurry of times saw New Zealand's Earl Bamber move into second with Malaysia's Fairuz Fauzy just behind him, but Portadown's Carroll struck back with the day's final lap to regain third on the grid. Debutants Monaco will start fifth, ahead of reigning champions Switzerland – who were running in a car borrowed from Pakistan as theirs was not ready.
The final pole time of 1m 24.213 was more than four seconds faster than A1GP's previous Lola/Zytek car managed at the Zandvoort circuit, going some way to justifying the decision to rush its introduction this season.
Delays in production of the new Ferrari-inspired and powered car forced the cancellation of the season's planned first race weekend and have damaged the new opening event, with some teams receiving their cars too late to take part. Neither Mexico nor China were are able to take part in qualifying, but both expect to race tomorrow.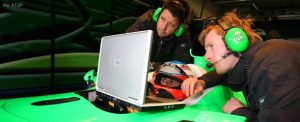 Further bad news looks likely to emerge soon, with growing suspicions that 2006-07 champions Germany may have withdrawn from the series altogether.
Officially, A1GP says the team is among those who have been forced to miss the Netherlands races because of the new car's build delays. Organisers say all 23 cars will be at the next race in China.
However, German seatholder Willi Weber told motorsport-aktuell.com he was trying to sell his share of the team and was not involved in the new season, while the post-qualifying notes issued by the Swiss team listed Germany as having left the series.
However, A1GP has reason to be pleased with a qualification session that went as well as could be hoped. Driver error forced two red flag periods during the hour, but the new car was quick and reliable throughout.
And Bleekemolen's success in front of his home fans gave the series the best possible start to a weekend that sees it in opposition to Superleague Formula's Belgian races, where Dutch drivers and teams are likely to figure strongly.
Bleekemolen said: "The competition was hard and even when people like [France's Loic] Duval came out who hadn't done any running, they were also going fast. The competition today was very tough but we were very well prepared and obviously I know the track well so in the end it worked out. In race pace, I think we are going to gain even more because the Michelin tyres are much more consistent."
Carroll said: "I am very happy with today's result as we can really look forward to a good race tomorrow and we know we are right on the pace. The team has done a fantastic job with the new car and we'll see what tomorrow brings.
"On my final qualifying run I decided not to go for it straight away and build up to a quick lap on my second flying lap, which had worked already for us during the session, but this time I hit traffic and had to abort the lap. I decided to go for it again with a third lap and it was good, even if the rear tyres did start to feel like they were going off."
Further positive news for the series came from the announcement that, following this weekend, new Team USA seatholder Michael Andretti intends to rotate his son Marco and fellow Andretti Green Racing star Danica Patrick in the American car, guaranteeing A1GP a much higher profile across the Atlantic than before.