This season's Formula Two car has made what series organisers call "a hugely impressive track debut" after recording times of around three seconds a lap faster than its predecessor.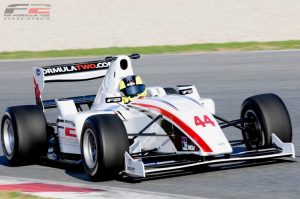 The Williams JPH1B has just gone through pre-season testing at Barcelona and Portimao, put through its paces by 2009 champion Andy Soucek and series test driver Steven Kane.
It provided consistently fast times at both tracks, with Soucek's lap time of 1:33.280 at Portimao beating the corresponding 2009 pole time for Formula Renault 3.5 by almost three-tenths of a second.
In Barcelona Soucek was able to set a personal best of 1:35.770 – compared to his best effort of 1:38.163 when F2 visited the circuit in 2009.
New features include aerodynamic revisions following what is described as an extensive CFD evaluation programme by the Williams team that is reported to have increased its maximum downforce by 30 per cent and its aerodynamic efficiency by 24 per cent.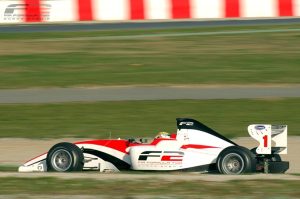 Formula Two series director Jonathan Palmer said the testing had heralded significant advances.
"Patrick Head and the Williams F1 personnel working on F2 have done a great job to substantially hike the performance of the F2 car for 2010. In 2009 to achieve the target of making our first race on schedule, development time was inevitably compromised as the design had to be frozen for manufacture quite early.
"The 2010 F2 package of upgrades is the result of many months' careful work, particularly aerodynamic modelling with the CFD programme. The team went to Barcelona via Lurcy-Levis in France to do straight line testing, which reassuringly verified the CFD theory.
"It was very encouraging to see such instant pace improvement on the opening day of our test programme at Barcelona. To be 2.4 seconds faster than our fastest pole position time so soon and in less than optimal conditions was pretty impressive."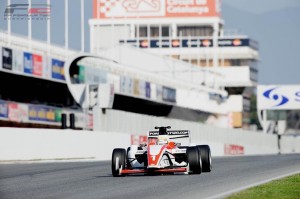 2009 F2 Champion Andy Soucek added: "We've made some massive improvements to the F2 car. When you have more power, less weight and better aerodynamics then the car is always going to be better, but to be so much quicker straight away was really impressive – even more so because the temperatures were extremely cold and there is very little rubber on the surface of the track.
"Barcelona is perhaps the most complete track in Europe to test on, which is why F1 teams love going there, and it really gave us a good basis to set up the car and evaluate the new changes. Overall the car feels similar to drive to last year's but you can really feel the effect of the aerodynamic improvements and the extra grip they bring."
All pictures: FIA Formula Two Championship and Sutton Images