McLaren is to move its focus away from Formula One racing and towards production cars, according to an announcement from the company this morning.
Former team principal Ron Dennis is severing all connections with the F1 team to concentrate on his role as Executive Chairman of McLaren Automotive.
He is to lead the growth of the team's new sports car business, which aims to develop a more affordable version of its previous iconic supercars, thus cutting its cloth for the economic times.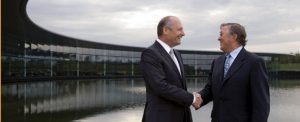 The development suggests that McLaren has embarked on a long-term strategy to protect its business from the increasingly unpredictable world of F1 – a world in which it is a major force but which has also come close to destabilising the entire company.
Few readers will need reminding about the £50 million fine the team paid to the FIA in 2007, or the extremely slim possibility of its being able to salvage anything from the self-imposed wreckage of its 2009 season.
There are also doubts about the long-term viability of F1 as a sport in its present form. Therefore it appears McLaren has decided to establish a business base that is independent of racing, but informed by its racing activites.
This could act as a buffer if it is forced to scale down its F1 involvement or even to switch to another series – perhaps one in America, a venue that the company founder Teddy Mayer excelled in once he left Formula One.
The new McLaren car, reportedly known as the P11, is said to be powered from a mid-mounted V8 engine with rear-wheel drive, a carbon-fibre chassis and bodywork. There are reports of a Conran-designed interior after CAR magazine got some spy shots of the machine in October last year.
It will be a showcase for the company's technology developed for Formula One, possibly including items like carbon-ceramic brakes and a semi-automatic gearbox.
The car is set to be launched in 2010 and is thought to be aimed at the buyers of the Ferrari F430 and the Lamborghini Gallardo, priced at less than £200,000 – a significantly smaller sum than you would have paid for a Mercedes SLR McLaren.
Update: Bless Top Gear, they know what's important. Here's their take on the car: http://www.topgear.com/uk/car-news/mclaren-p11-2009-04-16
The company has announced that Dennis has handed complete responsibility for McLaren Racing to the embattled Martin Whitmarsh, who will now report to the company's board for the activities of McLaren Racing in addition to his role of Team Principal of Vodafone McLaren Mercedes.
Additionally, on June 1 Cable and Wireless chairman Richard Lapthorne will be appointed Non-Executive Chairman of the McLaren Group and a Non-Executive Director of McLaren Automotive.
Speaking of the decision, Dennis said: "I passed the role of Team Principal of Vodafone McLaren Mercedes to Martin Whitmarsh on January 16th, the day of the launch of our new Formula 1 car.
"That day I was asked many times whether I would attend the 2009 Australian Grand Prix. My answer was 'yes'. I duly attended it – albeit not as the person in charge of Vodafone McLaren Mercedes. It was, I admit, a strange feeling.
"The next race, the Malaysian Grand Prix, I watched on TV in the UK – an activity I found surprisingly easy. I'd expected to be more emotional about it, after an unbroken run of attending so many grands prix for so many years.
"I admit I'm not always easy to get on with. I admit I've always fought hard for McLaren in Formula 1. I doubt if Max Mosley or Bernie Ecclestone will be displeased by my decision. But no-one asked me to do it. It was my decision.
"Equally, I was the architect of today's restructure of the McLaren Group. Again, no-one asked me to do it. It was my decision.
"I feel enormously enthused about the prospects for the McLaren Group and for McLaren Automotive, and have no qualms about leaving Martin to report to the board regarding matters connected with Formula 1."
There has been widespread speculation that this morning's announcement was provoked by the row over the F1 team's behaviour in the aftermath of the Australian Grand Prix. It was even said that Dennis would be severing his connection with the team in order to appease a furious Anthony Hamilton.
However it is very difficult to see how changes on this scale could have been wrought even in a month. This is clearly a decision that has been underway for some time and may even predate the current economic downturn.
It is equally unlikely that Dennis, who has had much to say recently about securing the long-term future of the company and the sport of F1, would take such a decision reactively, or in such a short timeframe. Neither could Lapthorne have been recruited quickly.
It is likely to date back at least to the severing of the McLaren-Mercedes partnership over the manufacture of an SLR supercar which has just gone out of production.
The last word comes from the McLaren Automotive website. And an illuminating statement it is:
McLaren is about racing. Our historical core business is Formula One, the ultimate form of motorsport, which constantly pushes the barriers of technology. At McLaren we can directly translate our racing experience to the road, using the latest technology from Formula One to achieve unsurpassed levels of vehicle performance.
See that bit about 'historical core business'? The future, it seems, may well be taking place away from the racetrack.