Liverpool topped the timesheets as the football-themed racing series Superleague Formula held a pre-season test and shakedown at Magny Cours ahead of the opening weekend of its second campaign.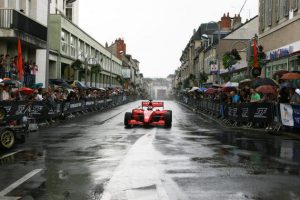 Returning Reds driver Adrian Valles, who also drove in a demonstration display on the rain-soaked streets of nearby Nevers, managed a lap of 1m 27.758s to put him almost a quarter of a second faster than the FC Porto entry driven by Tristan Gommendy.
Two other British entries also recorded fast times, the Glasgow Rangers car of Australian John Martin running fourth and Tottenham Hotspur placing sixth with Melton Mowbray driver Craig Dolby, who transferred from Anderlecht in the off-season.
Several other teams only completed a handful of shakedown laps and therefore did not set competitive times. These included GP2 champion Giorgio Pantano for AC Milan, ex-F1 driver Enrique Bernoldi for Flamengo, and Britain's Duncan Tappy, who competed last year for Spurs and has been drafted in as the last-minute driver for Turkish club Galatasaray this weekend.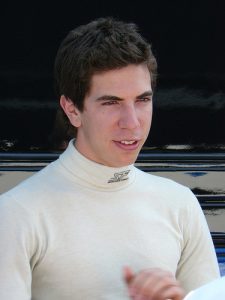 One driver not to make the track at all was 2004 Formula Palmer Audi champion and Williams F1 tester Jonathan Kennard, who has signed to drive for AS Roma. The 24-year-old from Tunbridge Wells, who also drove in the opening round of this year's Formula Master series, said: "Having driven both F1 and GP2 single-seaters I love powerful cars – now I can't wait to have a go in the 750bhp Superleague racer."
The AS Roma car is being managed by Azerti, alongside Pantano's AC Milan entry and Dominick Muermans for PSV Eindhoven. Kennard said: "I'm looking forward to racing alongside Pantano; he's raced in Formula 1 and is a multiple winner in GP2. He's obviously got a lot more experience than me at this level but I'm sure I can learn a lot from him. I can't wait to get to France and see how I compare to him."
Superleague Formula will go into its second season with a solid financial basis after signing a two-year title sponsorship deal with Angolan oil giant Sonangol.
Alex Andreu, Superleague Formula president, said: "Sonangol is an ambitious company with global aspirations, so it's a perfect match for Superleague Formula, which has very similar objectives. Over the next two years we will work closely together to develop both of our brands."
Sonangol spokesperson Rosa Santos added: "The mix of premier league motor sport and famous football brands has immense appeal and huge potential. We are proud to be part of such an innovative sporting series and are looking forward to the first round of the 2009 'Superleague Formula by Sonangol' in France on Sunday."