Dario Franchitti tightened his grip on the short oval part of the IndyCar season by taking pole for the SunTrust Indy Challenge in Richmond, ahead of his team-mate and his two closest rivals.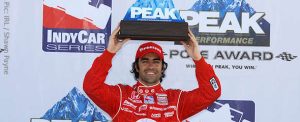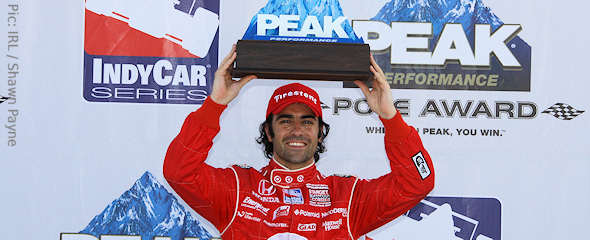 The Scotsman won on the 3/4mile Richmond International Raceway in 2007 but spent last season racing in NASCAR. With two wins so far this season, including last weekend at the marginally longer Iowa Speedway, he sits second in the championship standings.
His four-lap average of 167.315mph was enough to beat Target Chip Ganassi Racing team-mate Scott Dixon and the Team Penske duo of Helio Castroneves and championship leader Ryan Briscoe, who fill the rest of the front two rows.
Franchitti said: "I enjoy the short tracks – I enjoy the technique of racing on short ovals, the way you have to set the car up. Things come at you quick here. It's a really fun discipline of our series and I really enjoy it."
Castroneves, who won at Richmond in 2005 and was runner-up to Tony Kanaan last year, might have come closer to challenging him, but pushed too hard and nearly lost control of his car: "Unfortunately on my third qualifying lap I had a huge moment. I'll tell you, it may not look that bad on TV but when you're in the car it's pretty intense.
"This place is so fast, I didn't have enough time to fix or readjust the car. I am not sure how I was able to hold it together and I was just trying to finish the run safely, so I definitely lost some speed. Thankfully, I was able to save it."
Further down the field, Mike Conway continued his recent improvement by taking 11th for Dreyer & Reinbold – although he felt he should have done better – while Justin Wilson was 15th for Dale Coyne Racing.
Conway said: "Our session went okay. I lost too much time on the first lap and I'm a little disappointed I didn't get my first lap done properly. I think we have a good car for the race tomorrow. We will work on perfecting it tonight during the practice session."
Last year Wilson was one of only 10 drivers from the 26-strong field to be running competitively at the end of the race. He said: "Richmond is one of the most challenging ovals we race on. It's hot and physical and last year it was a real war of attrition – just making it to the finish felt like a major achievement. I know what to expect this year and the extra experience should come in useful."
Dan Wheldon could manage only 13th in qualifying, but demonstrated there is speed to be found in the Panther Racing car during the final practice session under floodlights, when he was second-fastest.
He said: "In practice this morning the National Guard car was quite quick and we made some changes prior to qualifying and fixed one of our problems, but actually made another one worse. I'm not sure if it's the different track conditions or the changes we made, but the car was just loose.
"It's a bit unfortunate, but that's just the way it goes sometimes. We're working very hard together for a team and I have no doubt the No. 4 car will be moving up pretty quickly in the race. We'll work our way towards the front."