Talented but erratic ex-Champ Car racer Dan Clarke has been given the nod to represent A1GP's Team GBR in New Zealand this weekend, standing in for Danny Watts who is at home with his partner and their newborn son.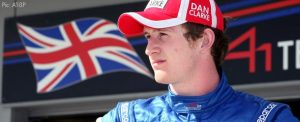 'Speedy' Dan scored a podium in each of his two Champ Car seasons, taking third at Denver for HVM in 2006 and topping that a year later with a second place at Road America, by which time the team was known as Minardi.
But he was also banned for a race during his second season for causing what stewards called a "totally unacceptable and completely avoidable" crash in practice at Zolder while he was already on probation following an error-strewn outing in San Jose.
The 25-year-old will become Team GBR's fifth race driver when he lines up at Taupo for Sunday's sprint and feature races, following Darren Manning, Ollie Jarvis, Robbie Kerr and Danny Watts, who has scored considerable success this season following the team's troubled start to the campaign.
Team GBR missed the first race meeting of the season as its centrally-produced race car was not ready, but came storming back in the second round thanks to Watts' experience as one of the drivers who tested the new design for the series.
Round three, in Malaysia, was less successful, and the team knew even then that he would not be able to drive in New Zealand. He and his partner, BTCC driver Fiona Leggate, had a son, Joshua, on January 15th.
Rather than promoting James Winslow, team rookie and reigning Australian F3 champion, the team turned to Clarke.
He said: "My management team have been speaking to Katie Clements at Great Britain since the start of this series. So, when it was clear that Danny Watts was not going to be available for Taupo, we really jumped at the chance. For now, it's a one-off, as Danny has done a great job and may come back, but I'd love to do more races. It would be a real honour."
Clement added: "We have been evaluating our driver options since we knew Danny Watts would be unavailable for this round. Dan Clarke is a British talent that has perhaps been overlooked and, since the demise of Champ Car at the end of 2007, he has been sadly without a drive.
"I am confident that his experience of high level single-seater racing combined with his thirst to return to the cockpit will produce good results next weekend."
The Englishman, who will be competing against his former Minardi Champ Car team-mate Robert Doornbos of Team Netherlands, is delighted to have been called up and keen to put down a marker for the future with the team.
"It's amazing really – a real boost and fabulous surprise," he said. "A1 Team GBR is a great team and they have the potential to win every time they compete. I'm here to help and hopefully the relationship can become long term.
"Firstly I've got to get used to a new car, new team and new track. I'm delighted to be driving for Great Britain – it's a real privilege, and it'll be great to be back battling with some of my friends and enemies from Champ Car. I'm fully ready for 2009 and even more determined to win."
He said that a year away from racing would not cause a problem: "I carried on training, ready to go racing, but actually I'm even fitter now than when I raced in Champ Car. This is because I had to find an outlet for my competitive instincts and so took up running races, starting with a 5km race and building up to running half marathons."
He now has to adapt to the new Ferrari-inspired and powered A1GP race car: "I'm going to work with the engineers and study the data to learn as much as possible.
"These are complex cars, and it's my job to learn as much as I can about the various procedures and electronics before I go out onto the track so that I can get the most out of my track time."
He, and everyone else associated with Team GBR, will be hoping that the Dan Clarke who arrives on track this weekend is the one who powered so impressively to the podium at Road America – and not the one who earned himself a ban at the very next race.