Craig Dolby shrugged off a broken driveshaft at the start of today's Superleague Formula qualifying session to secure a front row start in tomorrow's first race in Belgium.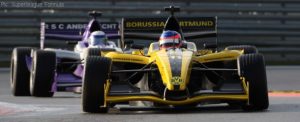 Running in front of fans and players from his Belgian club Anderlecht, the Melton Mowbray driver had just one chance to make it into the knock-out stages of qualifying after his mechanics raced to repair his car.
His sole lap in the group stages was enough to squeak through to the qualifying 'quarter finals', where he beat AC Milan's ex-F1 driver Robert Doornbos. Liverpool's Adrian Valles was his semi-final victim, but in the pole position shoot-out he pushed too hard against Borussia Dortmund's Paul Meijer and ran off the track.
Dolby, who finished second in both races at the Nurburgring, said: "I had suffered a broken driveshaft in the morning session before the track was dry. My Anderlecht team got my car back going again two minutes before the end of the session and I really didn't know what to expect because I hadn't driven the car here in the dry as yet.
"I just had to go for it – I made a couple of mistakes because I didn't know where all the braking markers were. Fortunately, it was still enough to get me into the shoot-out. I kept shocking myself and getting through in the quarter- and semi- finals and then I pushed a little bit too hard in the pole shoot-out."
Valles' semi-final loss was enough to put the Liverpool car third on the grid. He said: "It is quite a narrow track and it is really difficult to overtake here. If it is rainy it is going to be tricky because if you are behind somebody you can't see anything because the tarmac here takes a lot to dry out.
"It is going to be tough, but this morning we were really strong and I am really pleased with the car and the team. I think we have a really good chance to challenge for the win because the car is strong in both the wet and the dry."
Dolby's last-moment run in the group stages was enough to drop Tottenham's Duncan Tappy out of the knock-out stages and he will start from row five, in ninth place.
Ryan Dalziel's qualifying time would have seen the Rangers car comfortably through to the shoot-out had he set it in the same group as Dolby and Tappy, where it would have been third-fastest. In the much more competitive group A it was only good enough for sixth, consigning him to 12th place on the grid.