Ferrari's dismal adventures in Singapore may have cost them more than lost championship points – with the pressure off, arch rival Lewis Hamilton was able to use the race to improve as a driver.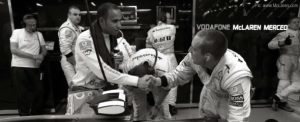 Reflecting on F1's first-ever night race, the world championship leader said the reduced pressure to win the race meant he was able to think strategically and apply lessons about racing intelligently, rather than just fast.
He said: "I think I learned something when I was behind David Coulthard in Singapore. Previously, you'd tell yourself to be consistent and avoid any unnecessary mistakes, but it's one thing saying it and another to do it. And once you get in the car, it can be hard to stop the instincts you've been developing since you were eight years old.
"But I actually think Singapore was a good learning experience: there was less pressure to achieve a victory because of the unusual circumstances, which meant I was actually able to start thinking of the world championship. I hate driving for points, but I think we can all see the benefit of that approach at the moment."
Felipe Massa's race was ruined by a botched pitstop, while Kimi Raikkonen was shunted down the field by the first of two safety car periods and later crashed out. Hamilton only finished third, but still stretched his championship lead in the run-up to the Japanese Grand Prix next weekend.
Looking forward to that race, he said: "I love Japan. Last year might have been difficult because of the wet weather and the poor visibility, but I actually really enjoyed that weekend. The Japanese fans are some of my favourite in the world: so passionate, but really polite, charming and respectful.
"As for the race, one of the questions I get asked most is whether I prefer to drive in the rain: my answer is always the same, I'll race in the wet or dry, I don't mind. But it's always easier for us drivers to race in the dry; I'd always prefer a dry race.
"This weekend, I'll be hoping for dry weather for another reason – I want the fans at the track to have the best weekend possible and to enjoy the atmosphere of one of the season's best races."