Red Bull is certainly giving its drivers wings at Barcelona this week – a Toro Rosso one-two on Monday has been followed by a complete shut-out of the top four timesheet slots on the second day of testing.
Sebastian Vettel, taking the helm at his new team for 2009, easily topped the unofficial timesheet as the only driver to break the sub-1:20 barrier with 1:19.751 on a cold and overcast day.
He was, however, closely followed by Takuma Sato, testing for the Red Bull B-squad, who managed 1:20.017 – a few hundredths of a second faster than regular Toro Rosso driver Sebastien Bourdais on 1:20.034.
Red Bull tester Sebastien Buemi, also trying out for a race drive, was fourth with a time of 1:20.223.
Following the test, Sato, who spent most of his 79 laps running at race pace, said: "I have really enjoyed the test and it was great to be back in the car.
"The last test in September was a little disappointing because I could do only three hours, as it rained in the afternoon. But this test has been great.
"I have now done my first full day's driving in seven months and completed a total of 200 laps. The car has worked really well and felt great to drive. I enjoyed working with the team, and it was very interesting for me to see how the engineers work.
"It was a great experience and chance for me, so I would like to say a big thanks to Red Bull and Mr Mateschitz, as well as to the Scuderia Toro Rosso team."
Normal service almost resumed in fifth place where McLaren's Gary Paffett notched up 1:21.340 – more than a second and a half, however, behind the leading car. (Testing times are less susceptible to comparison than most on-track statistics because of the different programmes teams might be running.)
Paffett had a troubled day after starting out in the KERS-equipped MP4-23K but being forced to switch to an unadorned MP4-23 after an oil leak where he spent the afternoon testing slick tyres and and aero components.
Sixth was BMW's Robert Kubica, followed by Nico Rosberg for Williams, Jenson Button testing slick tyres and different set-ups for Honda, and Adrian Sutil for Force India. Lucas di Grassi, in a Honda for the second day taking part in a try-out for the team, was tenth-placed.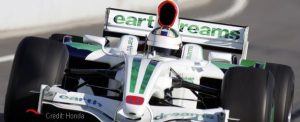 Next came Nelson A Piquet for Ferrari and the two Ferrari testers Luca Badoer and Marc Gene. BMW Sauber's Nick Heidfeld, driving the team's KERS-equipped car, was in 14th place with a time of 1:22.945, around a second and a half slower than team-mate Kubica.
Bringing up the rear were Giedo van der Garde, another hopeful who is testing for Renault, and Pedro de la Rosa, lent to Force India by McLaren in anticipation of the upcoming collaboration between the two teams.
Day two test times:
Sebastian Vettel, Red Bull: 1:19.751 (70 laps)
Takuma Sato, Toro Rosso: 1:20.017 (79 laps)
Sebastien Bourdais, Toro Rosso: 1:20.034 (48 laps)
Sebastien Buemi, Toro Rosso: 1:20.223 (99 laps)
Gary Paffett, McLaren: 1:21.340 (31 laps)
Robert Kubica, BMW Sauber: 1:21.521 (76 laps)
Nico Rosberg, Williams: 1:21.525 (113 laps)
Jenson Button, Honda: 1:21.770 (110 laps)
Adrian Sutil , Force India: 1:22.073 (58 laps)
Lucas di Grassi, Honda: 1:22.283 (110 laps)
Nelson A Piquet, Renault: 1:22.348 (85 laps)
Luca Badoer, Ferrari: 1:22.425 (127 laps)
Marc Gene, Ferrari: 1:22.772 (31 laps)
Nick Heidfeld, BMW Sauber: 1:22.945 (81 laps)
Giedo van der Garde, Renault: 1:23.250 (37 laps)
Pedro de la Rosa, Force India: 1:23.499 (86 laps)