One perfect year – and then it was all over.
The news today of German motoring giant Mercedes shifting its weight from McLaren to Brawn GP means that this season's double champions will become the ultimate motorsport one-hit wonder.
The new Mercedes Silver Arrows team will be many things – a formidable, well-resourced contender first among them. But one thing it will not be is the team that thousands of fans fell instantly in love with as they watched its journey from the edge of extinction to the summit of the sport.
Mercedes has announced today that it is "re-aligning" its relationship with McLaren and will become merely an engine supplier to the team with which it has won three drivers' titles and a constructors' championship since the current partnership began in 1995.
It will instead be running the former Brawn GP as a silver-liveried works team with one, and possibly two, German drivers and is expected to revive its Silver Arrows branding for the occasion.
Twelve months ago, Brawn GP didn't even exist as Honda announced on December 5 2009 that it would be pulling out of F1 with immediate effect. That left its staff at Brackley, from cleaners, engineers and caterers to designers, executives and drivers, with no clue if they would even have jobs in six months' time.
During an uncertain winter a rescue bid was put together by the management team of Ross Brawn and Nick Fry who bought the team to run as an independent outfit. McLaren gave its permission for its engine supplier, Mercedes, to help the new squad make it to the grid.
That new squad took part in January testing with plain white, sponsorship-free cars emblazoned with the legend 'Brawn GP'. Fans rallied behind the new outfit in their thousands.
The cars, driven by the old Honda partnership of Jenson Button and Rubens Barrichello, both of whom might have justifiably have wondered if they would ever drive in F1 again, blew the socks off the other teams and it was clear that the championship-winning Ross Brawn was back in business.
Brawn GP managed an unbelievable inaugural year in which it won both the drivers' and constructors' titles from its inauspicious start as December's child. More and more fans got behind it – and revelled in its success.
Now those fans, like Minardi's in 2006, are facing the prospect of a new season with their team bought out by a bigger entity, re-named, re-branded and changed beyond recognition.
Who will drive?
Jenson Button may have won the world championship for Brawn. But – unlike the formerly eponymous team principal – that doesn't mean his services are considered essential for next year.
Nico Rosberg is widely accepted as one of the team's 2010 drivers. And Lewis Hamilton is locked into one of the McLaren seats. Who fills the other two gaps still seems very much up for grabs.
Button could well find himself in the thoroughly disadvantageous position of backing up Hamilton in a team and a car built around the 2008 champion – whose driving style and requirements from a car are very different to the current champion's.
At first glance, a Button-Hamilton partnership might appear to turn McLaren into Britain's equivalent of Force India, US F1, Ferrari or Malaysia's new Lotus team – but each driver has partisan fans that are unlikely to warm to the other.
And McLaren strategists, led by Ron Dennis, have grand plans for their business that are unlikely to include turning the race team into a new Team GBR (more on this later).
If Button stays at Brackley – as most insiders still expect – the partnership with Rosberg will be a strong one. But it might not best suit Mercedes, which seems likely to be as German a team as Ferrari is Italian. Unlike the Maranello outfit, and unlike McLaren, that could extend to requiring a pair of drivers of the same nationality.
The name that seems set to be the fourth partner in this dance is Nick Heidfeld – quick, reliable, non-controversial, a known team player, a former McLaren development driver, German, and unlikely to overshadow a star lead driver. He could end up at whichever team doesn't take Button.
Either way, Button is unlikely to be the ultimate loser. Increasingly, there seems no vacancy for Kimi Raikkonen's questionable commitment, high wage demands and lack of enthusiasm for commercial and promotional work.
Mercedes buy-out – and McLaren's future
Car-maker Mercedes seems determined to be the manufacturer that bucks the trend and makes its involvement in F1 pay as its peers desert the sport in droves.
Last year it extended its engine supply from its traditional McLaren partners to Force India and Brawn. Now it plans to go the whole hog and renew its rivalry with Ferrari from the earliest days of racing.
In doing so it moves in the opposite direction to rival German carmaker BMW, which has this year abandoned its own solo effort – and the parallels are striking.
Like Mercedes, BMW ended a successful partnership with one of the big independent names in F1 because it wanted more control over its investment. And, like Mercedes, when BMW split with Williams its new plan was to buy control of a smaller privateer team run by a respected pitlane figure.
Employees at Brackley, who still bear the scars of Honda's withdrawal, will be hoping that Mercedes prove more committed to them than BMW did to Peter Sauber's workers at Hinwill.
And McLaren fans and even employees may have one eye on Williams and the fate that befell that championship-winning side after its partnership with BMW was terminated. The team undoubtedly sees itself as a member of F1's elite top table, and works constantly to return to the front of the grid, but has not yet made up the lost ground.
Some of the most interesting developments in this saga, at least when it comes to the future, seem to involve McLaren and its plans for the next few years.
According to its press statement released today, it comes out of the deal able to buy back the 40 per cent of the team owned by Mercedes' parent company and with an engine deal for at least the next six years.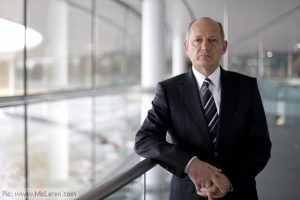 But the economic red meat of the story is in this sentence: "McLaren Automotive has been spun out of the McLaren Group and from 2011 will begin to manufacture its own range of high-performance production sports cars, targeted to penetrate a series of meticulously-selected premium automotive market segments."
Those segments are the ones currently filled with Mercedes SLKs and coupés. And it looks very much as if, in order to keep even this level of connection between the two companies, McLaren has been required to put clear blue water between its car production division and its racing team.
Let's give McLaren Automotive chairman and race team architect Ron Dennis the final word. Here's what he had to say about the development. This being Ron, it's not a particularly brief or pithy quote, but do read it through to the end, it will prove worthwhile:
"The next few years will be a very exciting time for McLaren, during which period we intend to become an ever-stronger technological and economic force.

"Formula 1 will always be a core activity, for sound business reasons as well as for historical sporting reasons: to be clear, our Formula 1 business has traditionally enjoyed great financial security, largely as a consequence of the longevity of our contracts with our partners, many of which have exceeded 15 years of continuous involvement with McLaren. Indeed, two of our partners have been with us for more than 25 years.

"We're risk-averse by design. Over the past two years we've analysed in great detail the challenge of entering the high-performance production sports car market. In the MP4-12C, which will be introduced to market in 2011, we have a car that has inherited the genes of the iconic McLaren F1 of 1994 and has already been the subject of much global media acclaim. It is proposed that it will be produced in a new state-of-the-art production facility adjacent to the existing award-winning McLaren Technology Centre at Woking."
In April this year, when Dennis handed over the team principal's role to Martin Whitmarsh, we wrote of the development under the headline McLaren diversifies away from F1.
It still looks to us as if this is exactly what McLaren is doing – realising Dennis' long-held ambition of turning his outfit into the British Ferrari. Because, as the proverb goes, you can't make an omelette without breaking a few eggs.
And that's a saying that applies even more strongly to the brutally unsentimental way in which Brawn GP – for all its 2009 success and committed fanbase – has been dispatched to the pages of F1 history after just one glorious season.