Nick Ledger, a keen photographer and mate of Superleague's Tottenham Hotspur driver Craig Dolby, was in Spain for the season's final meeting as part of a large contingent of Dolbyistas. He's written us this great trackside report of the events at Jarama where Dolby pursued his outside shot at the title. Contributions of this kind are welcome – please contact us if you'd like to do something similar.
– – – – –
It was always going to be a tall order for Craig to wrestle the Championship from Liverpool's Adrian Valles at Jarama but, Christ Almighty, did he try.
Quite a few of us had turned out and there were about 40 family and friends there to support him. The weekend got off to a flying start when Craig was quickest in first practice. The team were reasonably happy with the car but, come qualifying, they were struggling for rear-end grip and he missed out on the knock-out rounds by five-hundredths of a second. Fortunately Valles was also struggling and could only qualify 14th with Craig in 10th.
Come Sunday, 33,000 fans had turned up to watch the racing. Race one was steady away with both drivers making up places, Craig finishing fourth and the Liverpool car seventh.
It's a weird concept to get your head around when you're watching – his supporters wanted him to pull away from Valles in race one to get more points, but the more he climbed through the field, the further back he'd start in the reversed-grid race two. It was daft to think like that, though, because coming through the field is what Craig does best.
After race one he was 39 points behind. He could still win the championship, but needed to finish in the top three and hope that Valles didn't finish at all.
Race two got underway. The first-corner pile up was entertaining but then became concerning as the safety car stayed out and the time left to make up places was ticking away.
There was no need to worry though.
As the race restarted, Craig swept past both Valles and Anderlecht's Yelmer Buurman round the outside going into turn one. He then nailed Bourdais, again on the outside, going into the Esses in possibly the move of the season. It was bloody fantastic.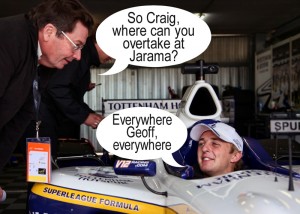 When a friend asked Craig where he planned to overtake in view of Jarama being difficult, he simply answered: "Everywhere". He wasn't lying. After three racing laps he'd gone from a starting position of 14th to 5th and after five laps he'd passed Bernoldi and de Villota to move into third.
At the pitstops Craig stayed out to put in some fast laps and make up track position. He pitted and came out second, which he held to finish a storming race. Valles, always consistent, finished fourth and sealed the championship win. Oh well.
A quick interview and then it was back in the car for the Super Final which Craig started on pole, having been the highest points scorer of the weekend. For those stood watching in the pit garage it was gutting when he didn't get off the line, as a win in the Super Final would have rounded things off nicely. He was unable to get first gear and stalled, but a push got him going and he finished the race.
What followed was an impromptu donut session which went down a treat with the crowd and topped off a great weekend's racing.
Craig absolutely drove his heart out at Jarama to produce what has to be the drive of the season. If only Valles had got caught up in the first corner melee! Or at least had some of the bad luck that Craig had suffered throughout the season. But he didn't and that's racing.
It's been a great second season for Superleague and many people certainly seem to have warmed to it. The racing, particularly in the reverse grid races, has been fantastic. There is rumoured to be a 12-race calendar next season – and it includes Spa! Craig knows with absolute conviction that he'll be finishing the Championship one step higher.
He just needs an F1 test now to really show what he's capable of.
Nick's pics