Rain-hit Monza qualifying produced a starting grid that no-one could have predicted, with Sebastian Vettel on pole and title rivals Kimi Raikkonen and Lewis Hamilton stranded down in 14th and 15th.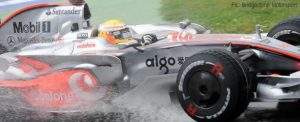 With many of the big names failing to fill their usual slots at the top end of the time sheet, the way was left clear for midfield runners to dominate.
Only Heikki Kovalainen flew the flag for the leaders in the constructors' championship, taking second. But with Vettel ahead of him and Mark Webber and Sebastien Bourdais immediately behind, it was a good day for the Red Bull teams.
Nico Rosberg took fifth, ahead of Felipe Massa, while Jarno Trulli beat out Fernando Alonso for seventh. Timo Glock and Nick Heidfeld round out the top 10, with Robert Kubica and Giancarlo Fisichella next.
David Coulthard was top among the British drivers, setting the 13th-fastest time, but will have Raikkonen and Hamilton breathing down his neck.
The Scot said: "Q2 was quickest at the beginning of the session, as it rained progressively. We went out just after the beginning of the session, but had to back off for a bit of traffic. We therefore didn't manage to get a time at the start of the session and you weren't going to get a faster time at the end.
"As you saw with Hamilton and Raikkonen, it wasn't getting any quicker out there with the worsening conditions. Congratulations to Sebastian on his pole position, it was a great performance from him."
Raikkonen blamed his failure to make the final stage of qualifying on a spin at Ascari, while Hamilton took a gamble on wet-weather tyres instead of extreme wets – and found himself floundering during what turned out to be the fastest stage of the session.
He said: "It was a joint decision to go out on wet-weather tyres at the start of Q2 – partly mine and partly my engineers'. We thought it was the right way to go at the time because it was getting dryer but the grip-level was poor so I came in and switched to extremes.
"By the time I got out, it had begun to rain and I just missed the window when the track was at its fastest; it was also very hard to pick out the braking points.
"It's the first time this has happened to me in Formula One, so I can't really complain – tomorrow's another day and we still have a fighting chance to make our way up the grid. I'll be doing the best job I can."
Jenson Button had expected rain to help him climb up the standings but instead found himself on 19th, sharing the back row with Adrian Sutil – another driver who might have expected wet weather to work for him.
He said: "We were expecting these conditions to help us, so I am surprised that we have ended up so far back in qualifying today. The biggest problem seems to be that we can't get the car and tyres to work in the wet conditions with very low downforce.
"The first set of tyres that we ran seemed to be working okay and I was running just outside the top ten, however on the new set that we used for my last three quick laps the car was just undriveable. It had no balance and I couldn't find any grip, so every time I hit the brakes, the front and rear wheels would lock.
"We'll have to have a look at the data and find out why the car was so difficult to drive, but it's obviously very disappointing to be starting the race from so far back on the grid."
At the other end of the grid, many of Vettel's Toro Rosso colleagues are veterans of the former Minardi squad – which meant those fans not still bitter at the takeover of their team were celebrating the success on home soil and the chance to put one over "The Other Italian Team" from Maranello.
The point wasn't lost on Vettel, either: "There are two Italian teams, Ferrari is the bigger one, but I think today, people will also know about Scuderia Toro Rosso.
"It will take time for this to sink in. It was my dream to one day drive a Formula One car and even if my target now has been to fight for poles and race wins, I didn't expect it today and it feels fantastic. Doing it here in Italy is also amazing."
Kovalainen said it was a really close session: "I missed pole by just 0.076 seconds. My first attempt in Q3 wasn't perfect and further rain later in the session made it almost impossible to improve. On my final run, I gave it everything but there wasn't enough grip to beat Sebastian Vettel.
"But congratulations to him on his first pole. Nevertheless, second on the grid is still a good basis for tomorrow; our car has shown good pace in both the wet and the dry so I'm feeling confident."
Massa said he was reasonably happy with his time, as it could have been worse and had put him ahead of his championship rivals: "Tomorrow I must try and finish as high up the order as possible and get some points. It will be a very tough race, but we can rely on a very competitive car."
Italian Grand Prix qualifying positions:
Sebastian Vettel, Toro Rosso: 1:37.555
Heikki Kovalainen, McLaren: 1:37.631
Mark Webber, Red Bull: 1:38.117
Sebastien Bourdais, Toro Rosso: 1:38.445
Nico Rosberg, Williams: 1:38.767
Felipe Massa, Ferrari: 1:38.894
Jarno Trulli, Toyota: 1:39.152
Fernando Alonso, Renault: 1:39.751
Timo Glock, Toyota: 1:39.787
Nick Heidfeld, BMW Sauber: 1:39.906
Robert Kubica, BMW Sauber: 1:36.697
Giancarlo Fisichella, Force India: 1:36.698
David Coulthard, Red Bull: 1:37.284
Kimi Raikkonen, Ferrari: 1:37.522
Lewis Hamilton, Mercedes: 1:39.265
Rubens Barrichello, Honda: 1:36.510
Nelson A Piquet, Renault: 1:36.630
Kazuki Nakajima, Williams: 1:36.653
Jenson Button, Honda: 1:37.006
Adrian Sutil, Force India: 1:37.417