David Coulthard missed crowning his career with a Race of Champions title at Wembley Stadium by just three tenths of a second, losing the deciding race in the final to French rally star Sebastien Loeb.
The first race, run in the Race of Champions buggies, went comfortably to Loeb but the Scotsman hit back by winning the second in the KTM X-Bows. The pair returned to the buggies for the third race, with DC promising to "win it or bin it" in a car that favoured his rival.
In the end, he did neither – the partisan crowd was unable to will him across the line first in a much closer contest than the first race of the final had been.
"It's not too bad to be beaten by a five-time world rally champion," he reflected. "I'm just happy to have made the final with so many good drivers here.
"The ROC is a totally unique event, and it's always a pleasure to take part, even if you don't win. I think there was some very exciting racing, and there's nothing quite like being able to see the whole track.
"It was a very entertaining afternoon for the British race fans, and I did my best to keep KTM busy by crashing a couple of their cars."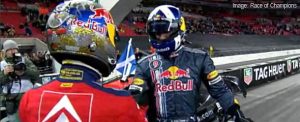 Loeb, who beat Guernsey's Andy Priaulx in the semi-final, won the title for the third time. He said: "It's a great pleasure to win this – last year I couldn't come, so it's good to be back this year."
Coulthard's semi-final victory came at the expense of NASCAR star Carl Edwards, who had unexpectedly beaten Michael Schumacher in the previous round. "It's amazing, it feels like I've won a championship – I'll never forget that moment as long as I live," he said after his victory over the F1 legend.
Earlier, the Schumacher and his German team-mate Sebastian Vettel had successfully defended the Nations Cup, beating Scandinavia in the final. The deciding race was a shoot-out between last year's finalists in the individual tournament, Schumacher and Sweden's Mattias Ekstrom.
Both British teams – Coulthard with BTCC driver Jason Plato, and Priaulx with Jenson Button, were beaten in the semi-finals, while Ireland were whitewashed by Germany in the first round.
Button, Plato and the two Irish drivers all failed to make it past the first round of the individual tournament, with Button beaten by American Tanner Foust, Gareth MacHale and Plato losing to Coulthard and Priaulx and Adam Carroll giving Ekstrom a tough battle before being defeated.
As well as the racing, there were a number of demonstrations – including Lewis Hamilton showing
off both his F1 car and the Mercedes McLaren in which he would have raced against Olympic cycling gold medallist Chris Hoy had the track condition not forced its cancellation.