Guest writer Scott McCarthy was at Wembley Stadium for the Race of Champions – and found high-octane excitement amidst the over-priced food, padded-out schedule and thrown-together teams.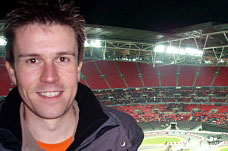 As I travel home after my second trip to Wembley for the Race of Champions, I can't help but feel a sensation of deja vu. Last year being the first time the event has come to London meant this was something unique, something special.
This year was simply more of the same. A bit like trying to make a sequel to a hit movie – you're always going to struggle. Still, for the benefit of this review, I'll try and avoid comparisons with last year wherever possible.
For anyone who's been to Wembley for a football match, walking out out to find a few hundred tons of Tarmac dumped on it is quite a shock! Especially when you can see the odd piece of grass complete with white lines painted on it between sections of race track.
The day starts fairly slowly with a few B-List celebs trying (and failing) to get an Abarth around the damp, grip-less track. The irritating commentators trying to whip up the crowd, when all we really want is to see some proper racing drivers.
Thankfully we don't have to wait too long. Lewis Hamilton and some bloke who rides a bike arrive in a Merc road-car to a tremendous roar from the crowd. Sadly, from the upper tier, I couldn't identify the exact model [Mercedes McLaren SLR roadster, left-hand drive – ed]. However, we're soon told that the much-anticipated man vs machine race will not be taking place, as the track isn't safe for cycling due to the cold, damp conditions.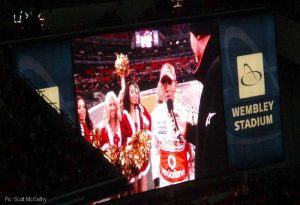 It's London in December. Were the organisers expecting a late heat-wave this year? I'm not accusing Chris Hoy of wimping out, as I imagine it probably wasn't safe, but the whole thing reeked of a hastily-organised and ill-thought-through way of boosting ticket sales.
Anyway, not wanting to disappoint, Lewis did a few laps in his Mercedes road car and then disappeared in time for the first of the two main events to begin… A drum roll, please, for the Nations Cup!
The format is to have two drivers from the same country taking it in turns to race against two drivers from another country, in a best of three knock-out competition. However, some rule-bending is allowed:
The two drivers can be from neighbouring countries (ie Sweden and Denmark) if that will help make up the numbers.
You can have TWO British teams if you want to try and boost ticket sales.
You can have a Spaniard in Team Australia if Mark Webber has broken his leg.
The track is set out like a rally super-special which means you get an inside lane and an outside lane crossing over at some point. The two cars that are racing are never on the same piece of tarmac – at least, that's the idea.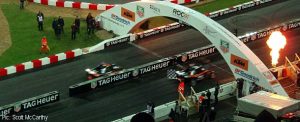 There are penalties for hitting the barriers – I think mainly to encourage safe driving. However, as a spectator, the crashes really are the best part of an event like the RoC. The drivers treat it as an end-of-season bit of fun so you're not going to get the levels of determination you see in 'real' motorsport events such as F1, touring car or IndyCar. Thankfully, we weren't too disappointed with the number of prangs, and David Coulthard did his best to crash every car he was given to drive.
Predictably, Germany won the event with Schumacher and Vettel driving impressively well. The break between events provided what for me personally was the highlight of the day – seeing Lewis in his McLaren Mercedes, with a big red #1 on the nose!
This is the point where buying a ticket to this event really makes all the difference. I don't care how good your high-definition Dolby 5.1 surround-sound system is. NOTHING beats hearing an F1 car for yourself, and especially in a football stadium where the sound can't escape anywhere. Truly awesome. I doubt he even got it out of first gear, but I swear I've lost 20 per cent of my hearing for good today, and it was well-spent!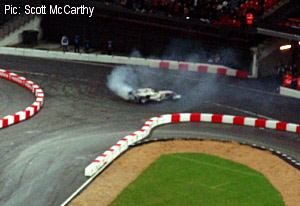 Before the main Race of Champions event started we were treated to a few more demonstrations of donuts, motor bikes, wheelies and the odd cheerleader session. To be honest, there was a feeling of 'get on with it' at this stage, which wasn't helped by being trapped in Wembley, meaning you're forced to pay the extortionate prices for food. I never thought I'd actually prefer a Silverstone hog-roast van to anything, but I did today. [Good God! Can this really be true? – ed]
Jenson Button had a miserable time losing in the opening round (no change there then) although Schumacher only lasted until the second round. I'll save a detailed race analysis for someone else but DC made it to the final and sadly lost. He was clearly the fans' favourite today.
I think that, to really enjoy the day as a fan, you need to go with the same mindset as the drivers. If you want to see serious wheel-to-wheel racing, go to Silverstone. If you want a fun day out, and to see (and hear) lots of different cars piloted by different drivers, then the Race of Champions is excellent value. OK, the food's rubbish and expensive and the commentators are annoying. But you will go home feeling fully entertained, albeit a little bit deafer!
Report by Scott McCarthy of MenaceF1.co.uk. You can see more of his photos from the event here.