Scott Dixon's return to form continued in Milwaukee when he pounced late in the ABC Supply/A.J. Foyt 225 to deprive Ryan Briscoe of a victory that the Australian had all-but earned after qualifying on pole and leading for most of the contest.
With a quick lap of the Milwaukee Mile taking less than 23 seconds the leaders hit traffic far earlier in the race than usual – and it was traffic that stopped Briscoe from building a race-winning margin while he was at the front, as the Target Chip Ganassi Racing pair of Dixon and Dario Franchitti were able to haul him in each time he reached another backmarker.
Andretti Green's Tony Kanaan led the first 25 laps and the Ganassi drivers blocked out laps 133 to 153, but apart from that the entire race was Briscoe's – until the moment Dixon passed him on lap 201 of 225.
Briscoe said: "It was a great race. Scott was just a little bit better than me at the end there and got me in traffic. I was struggling with a little bit of understeer, and whenever I'd get on the inside I'd really lose my momentum."
Dixon said: "I definitely think from the start our car was better. We could run quick times when we needed to, and we were good in traffic. That's the struggle at this track – getting through the traffic."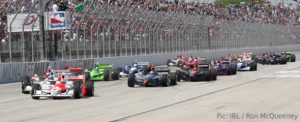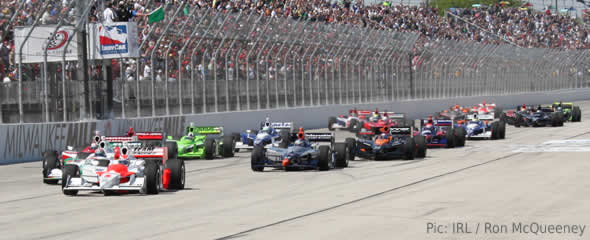 The New Zealander, who is the defending series champion, had a miserable start to the season but bounced back with a victory in Kansas, and might have won the Indy 500 had it not been for a botched pit stop.
He now leads the championship with 161 points, four ahead of both Briscoe and Franchitti, who finished third in the race ahead of Graham Rahal.
Franchitti said: "The hard thing was lapped cars – it was traffic, it was timing your passes right. The Milwaukee Mile produces close racing and you're really fighting that lapped traffic all day.
"My guys did a great job and got me out in the lead on the green flag stop. Then I just mistimed a pass, someone took my air off and that was it – back to third again.
"I really tried hard to pass Briscoe at the end, but again, when he was taking my air there was nothing I can do. It was a tough day. "
Danica Patrick took fifth, while Helio Castroneves' attempt to come from the back of the field after a crash in qualifying only took him as far as 11th. As a result Patrick overtakes Castroneves in the title hunt, with the pair now 22 and 25 points behind Dixon.
Apart from Franchitti, none of the British drivers had much to cheer about. Dan Wheldon could not build on his second place in the Indy 500 and finished 10th, while Justin Wilson finished six laps down in 15th and will be eagerly awaiting a return to road courses.
Wheldon said he had had a difficult weekend: "The top three cars today seemed to be in a class of their own. On a long run we were pretty good, we just didn't quite have the speed and just needed a bit more rear security so we could drive deeper into the corners. You need that to be fast around here.
"We're going to continue to work hard and I'm sure that the entire National Guard Panther Racing team is going to get stronger and the season goes on. We've learned some important things this weekend, and in a competitive series like this we know where we need to improve and we're heading in a good direction."
Wilson said: "It was difficult to anticipate the conditions because of the wind out there. Overall I was pleased with the #18 Z-Line Designs car today, and the Dale Coyne Racing team did a great job all afternoon."
Mike Conway, whose successful Indy 500 run and good Milwaukee qualifying had given cause for optimism, suffered a return to the crash-prone form of the pre-Indy races. On lap 57 he pulled too far off the racing line to let Wheldon through and lost control on the treacherous surface, hitting the wall.
He said: "I held down around the outside of one and two and then into three and four Wheldon was going to get the corner, so I gave him room because we were struggling with under-steer through three and four.
"Obviously he went through and I was unable to get through the corner. I had bad under-steer and went up into the marbles and once you are on that it's like being on ice and you can't stop the car."