Its drivers keep on winning – and now Germany is to host this year's Race of Champions as well as regularly supplying the annual motorsport event's most successful entrants.
RoC has announced that this year's competition is to be held on November 26-27 at Düsseldorf's ESPRIT arena, the home ground of football team Fortuna Düsseldorf, and a venue the organisers points out is both covered and heated.
Last year's races were held at the Birds Nest Stadium in Beijing, China, at the beginning of November in a midweek slot. It was the first international sports event to be held at the venue since the 2008 Olympic Games.
The Nations Cup was won by Formula One's Michael Schumacher and Sebastian Vettel for Germany – and this year at least one of those two is in with a fighting chance of winning the World Championship.
It has already been confirmed that both will be attending and they are hoping to retain the ROC Nations Cup for the fourth year in a row.
Other regulars putting in an appearance might include David Coulthard, about to kick off a season in German touring car series DTM, and reigning F1 World Champion Jenson Button.
Schumi said: "It's going to be very exciting to see The Race of Champions in Germany, particularly as Sebastian and I have won the Nations Cup for the last three years. So this is a great opportunity and a fantastic decision from the organisers.
"I'm really looking forward to defending our title in front of our home crowd. In the individual event we'll all be fighting for ourselves so it will be interesting to see who does better.
"It's always a fun event to meet up with our colleagues but you take it seriously inside the cars."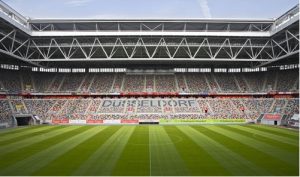 Vettel added: "It is special to do this kind of event in front of your home crowd, It will be a unique experience and hopefully Michael and I will get a lot of support.
"We have a good mix of youth and experience and we'll try to defend our title but we know it won't be easy as the others are always pushing.
"Last year in the individual race I had a shunt in the semi-final so hopefully I can finally make it into that final and get a good result. Either way it's a great way to end the season."
The Race of Champions will take place on a specially-constructed tarmac track with its usual pair of winding parallel lanes in a venue boasting a capacity of more than 50,000 as well as a closable roof.
In 2008 one of the event's big attractions, a race between Lewis Hamilton and cycling champion Chris Hoy, had to be called off after the track was affected by the weather.
Race organiser Fredrik Johnsson said: "After the successful events in the Bird's Nest in Beijing and Wembley Stadium we received offers from top-class venues all over the globe. But after a long selection process Germany came out on top.
'We had a very good experience in 1989 when we organised the second Race of Champions on the world's first parallel track at the Nürburgring. That had an amazing response from the German fans so we felt it was time to take the ROC back there after all these years.
"With Michael Schumacher and Sebastian Vettel fighting it out in Düsseldorf's covered and heated arena the atmosphere promises to be really hot – even at the end of November."
Anyone wanting to attend – a considerably more likely proposition for British fans than last year's international long haul – can find ticketing details here. Prices start at €29.