Three different drivers took pole and the two successive chequered flags during a sweltering and sparsely-attended weekend's racing for the GP2 series in Turkey.
And the upshot was Barwa Addax driver and Renault F1 tester Romain Grosjean losing his championship lead to team-mate Vitaly Petrov.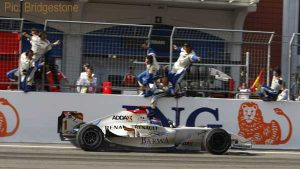 Grosjean retired from the feature race, which Petrov won, and came 12th in the sprint, in which Petrov came third. The Frenchman thus failed to improve at all on his total of 31 points, allowing the Russian to best him by a grand total of two.
For the full story of how it happened, read on:
Qualifying: Hulkenberg takes first pole
On Friday ART's Nico Hülkenberg topped the timesheets after an exciting qualifying in sultry weather that also heavily featured Super Nova's Luca Filippi and Barwa's Romain Grosjean.
The Williams F1 tester kept his powder dry in the early stages of the session before unleashing a 1:34.404 flying lap, setting all three fastest sectors with just five minutes remaining.
Immediately afterwards Barwa's Vitaly Petrov and ART's Pastor Maldonado stopped on track with mechanical problems, leading to the session being yellow-flagged. On the restart Hülkenberg set an early fast lap before Petrov relieved him the top spot only to be reeled in by Racing Engineering's Lucas di Grassi, Filippi and Ocean's Karun Chandhok.
Grosjean beat his teammate with little more than five minutes remaining but Hülkenberg regained the top spot immediately with Filippi behhind him. Di Grassi was third, Petrov fourth, Chandhok fifth, FMS' Andreas Zuber sixth and Ocean's Alvaro Parente seventh. Super Nova's Javier Villa started eighth.
Race one: Petrov shows true grit in scorcher
Petrov turned his fourth place on the grid into a dominating win in difficult conditions, taking victory by 6.5 seconds from Filippi and Durango's Davide Valsecchi.
Filippi tried to take pole-sitter Hülkenberg at the final corner of the second lap and the pair narrowly avoided touching before sliding wide. Petrov shot through and Luca Filippi followed, and they scampered away down the track.
Zuber eventually made his way clear of the midfield melee that followed, leaving Hülkenberg to fight his way past Parente. But the Portuguese driver did the job for him, spinning and retiring at the notorious turn eight and bringing out a safety car.
Petrov benefited from the resulting dive to the pits and managed to hold onto the top spot. Filippi grabbed second with Valsecchi making the most of of a safety car pitstop to take third.
Piquet's Alberto Valerio was fourth, Hülkenberg fifth despite his pole, Maldonado sixth, iSport's Giedo van der Garde seventh and and Villa eighth.
Petrov took second place in the championship table with 29 points, just two behind Grosjean at this stage.
Penalties following race one:
Grosjean was handed a 10-place grid penalty after he was judged to have overtaken the safety car when leaving the pitlane. However his retirement had already placed him at the back of the grid.
Van der Garde had 25 seconds added to his race one time plus a 10-place grid penalty for the same offence. This promoted Javier Villa to seventh place with Lucas di Grassi taking the point for eighth place and the reverse pole.
Hülkenberg was given a reprimand for running wide after the restart at turn eight. He was judged to have rejoined the track without due care and attention, and almost caused a collision with a following competitor.
Race two: Petrov podium seals championship lead
Di Grassi took his opening win of the season after leading race two from lights to flag – opening the way for third-placed Petrov to take the championship lead.
While he got on with things, Valsecchi and Filippi managed to crash at turn one, taking Zuber with them, and ruining the races of all three.
Di Grassi ran Petrov close, setting a string of fastest laps with Villa hanging on to his bumper. Petrov squeezed in behind them but didn't have the pace to stay with the chasing pack.
He finished nearly four seconds ahead of Villa with Petrov a further 1.5 seconds back. Fourth was Hülkenberg, fifth Maldonado and sixth Valerio. Petrov ended the weekend ahead of Grosjean by 33 points to 31. The next race takes place in two weeks' time at the British Grand Prix.
Standings (points-scorers only):
Vitaly Petrov, Barwa Addax: 33 points
Romain Grosjean, Barwa Addax: 31 points
Jérôme d'Ambrosio, DAMS: 18 points
Pastor Maldonado, ART: 17 points
Nico Hülkenberg, ART: 17 points
Lucas Di Grassi, Racing Engineering: 16 points
Luca Filippi, Super Nova: 13 points
Edoardo Mortara, Arden: 10 points
Andreas Zuber, FMS: 8 points
Javier Villa, Super Nova: 7 points
Davide Valsecchi, Durango: 6 points
Alberto Valerio, Piquet: 6 points
Giedo van der Garde, iSport: 5 points
Kamui Kobayashi, DAMS: 3 points
Karun Chandhok, Ocean: 2 points
Get the full stats and standings on the series website here >>