The McLaren group has unveiled a management restructure as its chairman Richard Lapthorne announced his resignation, almost exactly one year after he was appointed, saying that his work at Woking was complete.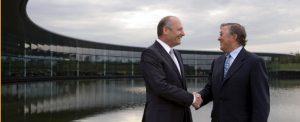 Lapthorne, a former boss at Cable and Wireless, joined the company in April 2009 – at the same time that Martin Whitmarsh took control of the F1 team and Ron Dennis announced his intention to concentrate on McLaren Automotive, developers of the new MP4-12C supercar.
As news of his departure broke, Lapthorne said: "We had a full list of issues last April. Ron and the team have been brilliant in working through them and, with the road car company poised for a spin-off, my job is done."
It means that Ron Dennis will resume his role as Executive Chairman of McLaren Group with immediate effect and will continue in his role of Executive Chairman of McLaren Automotive.
The company also announced that the F1 team principal Martin Whitmarsh has been appointed to the additional roles of Chief Executive Officer of McLaren Group and Deputy Chairman of McLaren Automotive.
Jonathan Neale will continue as managing director of McLaren Racing and Antony Sheriff remails in charge of McLaren Automotive.
Dennis said of the shake-up: "Following the spin-off of McLaren Automotive from McLaren Group, I'm delighted to announce this management restructure.
"The two companies will have separate shareholdings and will continue to be headquartered in Woking. McLaren Group will be based at the existing McLaren Technology Centre while McLaren Automotive will be based at the brand-new McLaren Production Centre which is now being constructed alongside the MTC.
"I have enormous confidence in the senior management teams of both McLaren Group and McLaren Automotive and am pleased that both companies will be extremely well-served by those senior management teams, now and going forward into the future.
"Finally, I would like to pay tribute to Sir Richard Lapthorne for his work over the past year. His knowledge and experience have been very beneficial to the senior management teams of both McLaren Group and McLaren Automotive.
"For that reason, as Executive Chairman of McLaren Group and McLaren Automotive and also personally, I would like to take this opportunity to thank Sir Richard for his wise counsel and wish him well for the future, personally as well as professionally."