The actor, philanthropist and motor sport supporter Paul Newman has died of cancer at the age of 83.
In a varied and remarkable life he was nominated 10 times for an Oscar, launched a successful range of of salad dressings that he used as a vehicle to donate millions of dollars to charity, placed second in the 24 Hours of Le Mans as a driver, and won eight titles and 107 races as a team owner.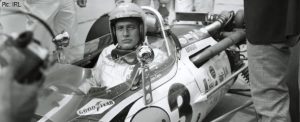 His love affair with motor sport began in 1968 while filming 'Winning', a movie about an average driver who kick-starts his career by winning the Indianapolis 500.
Newman did his own driving in as many of the film's scenes as he could, and when afterwards he was presented with an honorary championship driver's licence he immediately – but without fuss or fanfare – enquired how he could earn a real one.
From there, he began to quietly enter Sports Car Club of America regional races, gaining his first win in 1972 and the first of several championships four years later. As well his 1979 runner-up spot at Le Mans he placed fifth in the 1977 24 Hours of Daytona.
In the same year he made an unsuccessful attempt to run a car in the Indy 500 as an owner, but in 1980 he was able to start a Can-Am team with Carl Haas, and three years later Newman-Haas Racing was at Indy.
Haas said today: "Paul and I have been partners for 26 years and I have come to know his passion, humour and above all, his generosity. Not just economic generosity, but generosity of spirit. His support of the team's drivers, crew and the racing industry is legendary. His pure joy at winning a pole position or winning a race exemplified the spirit he brought to his life and to all those that knew him. We will truly miss him."
When the Indy Racing League split from CART he remained a vocal supporter of and participant in the parent series, undergoing a voluntary exile from the Indy 500 that lasted almost without break for more than a decade.
The final four CCWS titles were won for Newman/Haas/Lanigan by Sebastien Bourdais, who broke off from preparations for F1's Singapore Grand Prix to say: "We had known for quite a while that there was no way out and he was not going to survive the cancer. He was in a lot of pain, and he's in a much better place now.
"Paul discovered racing when he was 45 years old and discovered that he was pretty damned good at it. He got a lot of opportunities to drive some really nice cars and won his class at the Daytona 24 Hours at the age of 70.
"That was Paul. A great guy who was always ready to have a good time in racing as well as trying to do everything he could do to help kids and everyone around him. We had so much success together and some great years. That's what I remember most – sharing so many great moments with him."
This year's reunification between the two series gave a welcome opportunity to renew old rivalries and old friendships, and he was a popular visitor to the Indianapolis Motor Speedway for the Indy 500 – but ironically it was his appearance at this event that first tipped off the wider media to the fragile state of his health.
He said at the time: "It's good to be back at Indianapolis. It brings back a lot of fond memories. We've won eight championships and come in second twice at Indianapolis but never won the '500.' It's wonderful to be running against Roger (Penske) and (Bobby) Rahal, and Michael (Andretti) and all those guys. It's comfortable."
His final victory as an owner came this season, when Sheffield's Justin Wilson won at Belle Isle. As late as last year he was a passenger in a two-seater Minardi F1 car, and he was still winning sports car races into his late 70s.
Wilson said: "I am extremely saddened to hear about Paul's passing. He was a great guy to be with around the track. He was one of a kind. Obviously I am just thinking of his family and wishing them well while they are trying to deal with this. It can't be easy.
"He's going to be missed, not just in the motor racing world but in every area that he participated in, in his life. He affected so many people in a positive way. I'm going to miss him and am fortunate to have known him."
McLaren boss Ron Dennis was among those to pay tribute. He said: "Paul Newman was one of those very few people for whom the term 'megastar' was no exaggeration: truly, he was a legend of the silver screen.
"However, he was also a fine driver, who was famous in Hollywood for doing his own stunt driving as often as not. But his driving was no mere stunt.
"I met him quite a few times, and liked him a lot. In fact I arranged a secret test for him in a Procar many years ago, and he acquitted himself pretty well.
"Along with all my McLaren Group and Vodafone McLaren Mercedes colleagues, I extend my sympathy at this very sad time to this great man's grieving family and friends."
By the time of his death his charity organisation, the Newman Foundation, had donated around a quarter of a billion dollars to good causes.
A statement from the foundation read: "Paul Newman's craft was acting. His passion was racing. His love was his family and friends. And his heart and soul were dedicated to helping make the world a better place for all.
"An exceptional example is the legacy of Newman's Own. What started as something of a joke in the basement of his home, turned into a highly-respected, multi-million dollar a year food company. And true to form, he shared this good fortune by donating all the profits and royalties he earned to thousands of charities around the world."
Newman died of lung cancer at his home in Westport, Connecticut on September 26.