Craig Dolby has admitted that he's still in shock after scoring a pair of second places in Superleague Formula's second-ever race meeting, held at Germany's Nurburgring.
The 20-year-old will have home field advantage when he chases further success for Belgian team RSC Anderlecht on October 5th.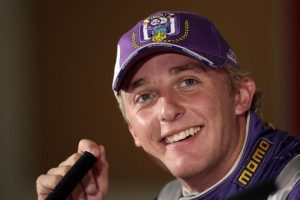 Dolby, from Melton Mowbray, moved up to fourth in the championship on the back of his strong showing at the Nurburgring and hopes to give the Belgian fans something to cheer about during the next two races at Zolder.
"I'm still in a bit of a state of shock after the weekend – I haven't been able to wipe the smile off my face." he said.
"The result was great for Anderlecht and the perfect preparation for our home race in Zolder. I've raced there in the past and I'm really looking forward to trying the Superleague Formula car there – it should be really impressive over the back part of the course.
"My confidence is really on a high now and I certainly have my sights set on having another great result next weekend."
Superleague Formula cars are associated with some of the world's leading soccer clubs, but the football teams have no financial or managerial involvement with their racing namesakes.
Marketing links are another matter, however, and Dolby will be making a guest appearance at Constant Vanden Stock Stadium next Friday night to see his football colleagues take on Excelsior Mouscron.
Then, in return, the league-leading footballers and coach Ariël Jacobs will head to Zolder to support the driver in the two races on Sunday.
Dolby said: "I'm really looking forward to going to the match – hopefully many of the fans will also join the players in coming out to Zolder as well.
"Having the entire football team at the track will be another huge confidence boost for me – I'm really looking forward to that.
"To finish behind Yelmer [Buurman] and PSV at Nurburgring was great, but next weekend I will be out to reverse that result. There should be a lot of Dutch fans on site as well, but we will be on Belgian soil so I will be out for the win."