British IndyCar driver Alex Lloyd has taken a major gamble on his future by walking away from his development contract with powerhouse IRL team Target Chip Ganassi Racing in the hope of finding a full-time drive elsewhere.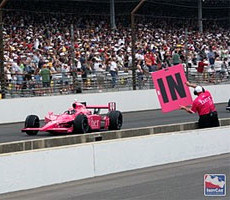 He used his Twitter feed to announce: "So I have decided to leave Ganassi Racing. I need to explore my options and get into a race car and to do that I need to be a free agent.
"CGR have worked hard to find funding and I appreciate their efforts, I need to get back behind the wheel and this gives me my best chance."
The runaway winner of the 2007 Indy Lights series, Lloyd was snapped up by Ganassi as a star of the future but has only raced twice since, courtesy of partnership deals struck with other teams to run him in the last two Indianapolis 500s.
His 2008 Indy 500 ended in a crash, but this year a highly visible sponsorship deal with energy drink HER led to his becoming one of the unexpected media stars of the Month of May.
Driving a shocking pink car and wearing matching firesuit and helmet, and accompanied by his heavily-pregnant wife Samantha who was due to give birth on race day, he qualified well and fought back from an unlucky early pitstop to finish a creditable 13th.
Since then everything has been quiet – apart from the eventual arrival of daughter Bethany on June 2 – and there has been no suggestion that Ganassi would send him out to race again this season.
On June 9th he answered a Twitter enquiry about his plans with the statement "there are going to be a few big changes in the next week or so", and the next day he followed it up with his announcement.
Where Lloyd goes from here depends very largely on whether he is able to take any funding with him, as he has now become one of a long list of classy IRL drivers currently without a ride and lobbying hard to get one.
His prospects at Ganassi had started to dim as the team, while genuine in their support of him, were unlikely to voluntarily part with their current driving line-up of 2007 IRL champion Dario Franchitti and 2008 champion Scott Dixon.
Late last season there was talk of the team possibly fielding a third car this year for Lloyd, but the global financial crisis put paid to that – and the latest hot rumour suggests that if Ganassi adds another race driver it will be Danica Patrick.
Lloyd's trump card may turn out to be HER, if it chooses to follow him rather than stay with Ganassi despite that team's high-profile sponsorship from its most prominent stockist, Target stores.
Energy, health and fitness drinks are one of the few industry sectors still investing in race sponsorship, most obviously Red Bull. Townsend Bell's Indy 500 run was backed by Herbalife, while Tomas Scheckter has signed with Dale Coyne Racing thanks to personal sponsorship from the controversial MonaVie, which he also sells.
HER's management was reportedly delighted with the publicity delivered by Pink Lloyd's Indy 500 efforts and is said to be planning a campaign for the whole 2010 season. If it decides that its driver was an essential part of the mix, Lloyd will have a lot to offer a team.
With hard facts difficult to come by, there is one possible pointer for the future. Lloyd's first Tweet after announcing his split from Ganassi read: "Time for a HER and a quick gym session."
Edit: And within minutes of our publishing this story, an interview with Lloyd headlined "Why I had to leave Ganassi" was released on racer.com.
In it Lloyd reveals his current contract with Ganassi ends in a few days and he faced the choice of striking out alone now or possibly finding himself trapped if he renewed it and an opportunity came up later in the year.
He says he had heard nothing about the Danica Patrick rumours, but was instead motivated by an awareness that the team's best efforts had not secured him the opportunity to drive regularly. The parting, he says, was on good terms.
As for the HER sponsorship, he doesn't know whether it will follow him or not – but believes he can raise the funding for a drive even if he doesn't get it and hopes to hit the track before this season's end.