Felipe Massa produced a stunning last-gasp qualifying lap to take the first-ever F1 night race pole position from Lewis Hamilton by six tenths of a second.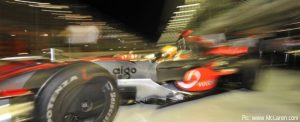 But the Englishman should have little to complain about at starting second – he only scraped into the final pole shoot-out in 10th place and would probably have been eliminated if Fernando Alonso's flying Renault hadn't developed a fuel problem.
Alonso – fastest in both second and third practice – was left furious by the failure, which he believed had cost him a front row start at a circuit drivers are already labelling as almost impossible to overtake on.
"We haven't been this strong anywhere," he said. "In other races we wouldn't have lost much but here we have lost the biggest chance we had. The race is lost."
Even on top form, though, the Spaniard would have been unlikely to come close to Massa, who set a time of 1min 44.801secs in what he later described as a "perfect lap".
He said: "The car was just perfect, so nice to drive smoothly and then I managed to do a perfect lap and that always helps when you have a good car and you don't make any single mistakes in whatever corner you go. That is always a great achievement.
"I just made it corner by corner, perfect, not making any single mistake and then when I came to the last corner I said 'maybe I will take it a little bit easier' but I couldn't. I did the last corner quickly anyway but the feeling is so fantastic – when you get the best from the car it is one of the most incredible feelings you can have as a racing driver."
Hamilton admitted he had been worried by his narrow escape from elimination in the second qualifying session: "It was a little bit nerve-wracking for sure but fortunately we got through. I managed to secure a good spot on the front row but obviously not as smooth sailing as some other people.
"The car didn't stop into turn one, so I missed out on that lap. Unfortunately I didn't have enough fuel to do an extra lap, so I had to come in and then I went into the weighing scales. Then I had to come back in, get everything cooled down and everything changed and back out. And then when I went back out I got stuck in traffic.
"It was just one of those things. It was very, very fortunate that I got through and I'm happy with the result because of that. But nevertheless we've been very competitive all weekend, so I think I am in a good position for the race tomorrow."
He predicted overtaking would be almost impossible: "You won't be able to overtake here, I don't think so – I was behind David Coulthard's car. I was quite a bit quicker but I couldn't get close enough."
That restriction means Kimi Raikkonen will be glad of a third place on the grid that represent an improvement on recent qualifying performances. He said: "The result is OK if I look at what happened in the last few races. We will try the best that we can tomorrow. I think the car should be pretty good in the race. The lap was OK – for sure you could go faster, but third place is not too bad."
Sharing row two with Raikkonen is BMW's Robert Kubica, while fifth-place Heikki Kovalainen would have had Kubica's team-mate Nick Heidfeld next to him had the German not been hit with a three-place penalty for blocking Honda's Rubens Barrichello.
The incident happened at the entry to the pits, which has proved controversial all weekend as cars slowing for the pitlane are on the racing line. Heidfeld said: "When I saw him I tried to do the best I could to get out of the way. It was the best I could do. But apparently not enough.
"Even before the race weekend started it was obvious that there would be issues with the pitlane entry and pitlane exit, so I don't know why it wasn't thought through properly."
Sixth on the grid instead goes to Monza winner Sebastian Vettel.
Further back, Jenson Button continued his positive weekend with a respectable 12th on the grid, while David Coulthard managed 14th – once place ahead of the unfortunate Alonso.
Button said: "I'm pretty happy with our qualifying performance today and it is certainly a big improvement on the last few races. My final lap was compromised with too much understeer and very low grip in the first sector, but it was reasonable and it's nice to have the pace to compete in Q2 again.
"We got to grips with the circuit pretty quickly at the start of the weekend, which has provided a good foundation for qualifying today and our race preparation for tomorrow."
Coulthard was less positive: "I had to make it up a little bit in qualifying today, as I missed out on track time this morning. On a track like this you really need miles to get your hand in. The main factors for this track are getting the right tyre and getting your eye in so that you turn at the right point.
"On my flying lap I was over the top on some corners, but I think I did pretty well on others. It's not good to start the race tomorrow in the middle of the pack."