The definition of 'rookie' is a pretty flexible one in the Indy Racing League this year – just ask Justin Wilson, who is classed as one even though his last visit to the Milwuakee Mile saw him lead 61 laps on his way to second place in Champ Cars' 2006 Time Warner Cable Road Runner 225.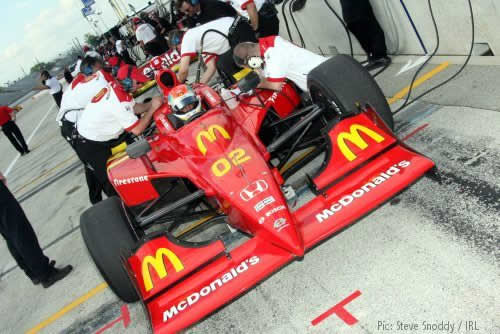 #02 Justin Wilson in the pits on set-up day at Milwaukee.
Wilson was one of 11 drivers who took advantage of a special one-hour practice session for rookies and drivers transitioning from the Champ Car World Series at The Milwaukee Mile in preparation for Sunday's ABC Supply/A.J. Foyt 225.
He said: "We used some of the knowledge we had from running the Champ cars here but obviously it doesn't always translate. The aerodynamic configuration of this car is very different and this is the kind of track where that shows up. So that's what we're trying to learn – the right aero balance and ride heights. The mechanical setup is quite similar to the Champ car."
He said the extra practice was very useful in making the car competitive: "We're just working on our setup; getting a feel for it. I think we can go away and study the information tonight and hopefully hit the ground running tomorrow.
"I came across a few people in traffic and that information was useful. I don't think we're quite there yet with the car yet to slide through the pack. It's going to be busy out there with 26 other cars on the track and you'll need a car that's good in traffic."
Earlier, he had given an interview to IndyCar's video newsletter, "Up to Speed", in which he talked about having run well at Milwaukee in the past and how he hoped to improve on that previous second place.
He said: "It's a great track and I really enjoy it. There's not a lot of banking so the car moves around a little bit and you have to pick your line very precisely.
"Obviously I aim to do one better than I've previously done, second in Champ Car – it would be nice to go out there and get the first win. We'll see how it goes, if we can get the car balanced and handling well. The key is staying on the lead lap."
You can see the interview in full below – it ranges across topics as diverse as Wilson's impressions of life in the IRL, his reaction to recent fatherhood, and how he dares not exercise or work out too much in case he puts too much weight onto his 6'3″ frame.