Liverpool's Adrian Valles took his second victory of the inaugural Superleague Formula season at Estorial in Portugal, but there was disappointment for the other British clubs and drivers in the football-themed championship's fourth round.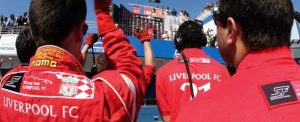 While Valles beat off ex-F1 racer Robert Doornbos in the AC Milan car for victory in the first race, Rangers' Ryan Dalziel, Anderlecht's Craig Dolby and Tottenham's stand-in driver Dominik Jackson found themselves propping up the 15 finishers.
Race two offered even less to cheer about for the Brits, with Dolby in ninth the only one to sneak into the top 10 – even though the starting grid was the results of the first race in reverse.
Victory in the second race went to Paul Meijer, representing the United Arab Emirates club Al Ain, with Doornbos storming through from the back row to again take second.
Championship leaders Beijing Guoan managed a pair of fifth places to extend their lead. Liverpool remain third, but Spurs drop from sixth to ninth, Dolby's Anderlecht from fourth to seventh, and Rangers from 12th to 15th.
In race one, Valles started fourth but gained a place at the start and another during pitstops. He then passed Doornbos for the lead on lap 11 and held it to the flag.
He said: "We did a very good pitstop but it was not enough to overtake Robert, I had to overtake him on the track. It was difficult, but I made it and I am really happy for the win. We had a good strategy, a good stop and we worked very hard overnight to make sure I had a good car for the race today. I was able to overtake Robert because my tires were up to temparature after the stop and I could brake later."
Race two went less well – he made early contact with AS Roma's Franck Perera and lost his front wing. He eventually finished a lap down in 12th.
Tottenham's Jackson had the hardest job among the Brits. The London club's usual driver, Duncan Tappy, was competing elsewhere and ex-F1 and IRL driver Enrique Bernoldi was drafted in as a replacement.
But the veteran racer, who missed the end of the recent IRL season with a hand injury, suffered a similar mishap at home in Brazil and Jackson made a last minute dash to take part instead.
The ex-Formula BMW and Formula Palmer Audi driver had been involved in testing the new Superleague Formula V12 cars, but hadn't expected the chance to race one. On arrival in Portugal, he said: "I was coming down to Estoril to watch, but now I'll get the chance to drive. It is a great opportunity for me. Most of the running I have done in the past has been bedding in brakes and gearboxes, this weekend will be very different."
"I'm really looking forward to racing for Spurs this weekend. Duncan has done a great job putting the car on the podium at the last round and I hope to finish the weekend with another strong points haul for the club."
Despite two strong starts, his hopes were not to be realised. In the first race he advanced from the back row to 11th by lap three, but could make no further progress and finished a lap down in 15th. In race two he grabbed the lead early on but could not hold it and dropped back through the field, ending up 11th of 12 finishers.