IndyCar drivers Dan Wilson and Justin Wilson, both fathers of very young children, will be racing at Chicagoland this weekend with reminders of youngsters in need on their cars and helmets.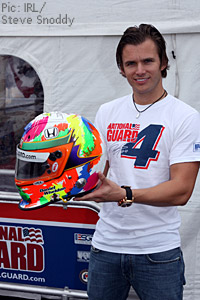 Wheldon, who became a father in February this year, is a regular visitor to the Peyton Manning Children's Hospital in Indianapolis to meet patients and their families. Each year he holds a contest with the children, asking them to design a helmet and write a story about themselves.
He then selects the most inspiring story and has his race helmet painted with the winning child's design. This year's winner is a nine-year-old girl called Jama, who is being treated for cancer at the Indianapolis children's hospital.
"It's fun but it's more the meaning behind it," said Wheldon. "I was raised in a big family that is incredibly close and I'm very blessed. I do a hospital visit every year before the Month of May starts and we wanted to come up with something that would be a little different and a little special."
Where possible, the competition winner is invited to a race as his guest, and last year's came to the Milwaukee Mile in May – but Jama couldn't because of her treatment, and will also miss the Chicagoland race. Despite this, Wheldon is wearing her brightly-coloured helmet during the weekend.
He said: "It's very hard to pick a design because they put so much effort into them. This young girl, Jama, is very special."
Wilson, whose daughter was born in April last year, will carry the logo of charity Racing For Kids on his car during the weekend. The Sheffield driver, who lines up for Illinois-based Dale Coyne Racing, visited youngsters at Chicago's Children's Memorial Hospital during the week.
Racing For Kids is a national charity in the US that uses the popularity of motor sports to focus public attention and funding on children's healthcare needs. IndyCar and Firestone Indy Lights drivers visit youngsters at children's hospitals before each race weekend as part of its work.