The rain stayed away from Spa during qualifying for the Belgian Grand Prix – but it made no difference as the grid was turned on its head anyway, with Force India's Giancarlo Fisichella taking a shocking pole position.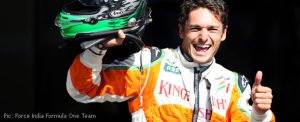 "It's unbelievable – I didn't expect pole position," he said. "It is fantastic, I am so happy – I didn't expect that result so I am really happy and looking forward to tomorrow."
Team-mate Adrian Sutil just missed the final qualifying session, setting the 11th-best time, but Fisichella was joined at the front by the BMWs and Toyotas, two teams that have struggled in qualifying more often than they have shone this year.
Toyota's Jarno Trulli made it an all-Italian front row, while BMW's Nick Heidfeld and Robert Kubica were third and fifth. Trulli's team-mate Timo Glock was seventh, behind Kimi Raikkonen for Ferrari.
A puzzled Trulli said: "It's a mystery. We haven't done anything on the car compared to the last few races and suddenly here we are competitive."
Of the championship contenders, only the newly-resurgent Rubens Barrichello posted any sort of competitive performance. He will start fourth, well ahead of the Red Bull pair of Sebastian Vettel and Mark Webber in eighth and ninth.
The top ten was rounded out by Williams' Nico Rosberg, which meant there was no room in the final qualifying session for championship leader Jenson Button or McLaren's Lewis Hamilton. The pair were the slowest of the qualifiers from Q1 and did not shine in the second session, bracketing Fernando Alonso to take the 12th and 14th slots ahead of Heikki Kovalainen.
Button suffered on soft tyres, his team failing to heed the lesson of Fisichella's fast runs on the harder compound: "I didn't have any pace on the soft tyres and, every time I hit the brakes, the rear would move. I didn't have any confidence in the rear end.
"It's strange to be four or five tenths off Rubens – our cars are different, but they are not that different. It is pretty disastrous for tomorrow really."
Hamilton, whose expectations had been lower, was less disappointed: "We did the best job we could today. We expected that we wouldn't have as good an aero package as some of the others, we just didn't know to what extent. I guess today we found out.
"We'd always known the car would struggle in the mid-sector corners and being one second down in the mid-sector shows the true downforce level of our car.
"But I'm not too disappointed. This year has been a rollercoaster ride for everyone, but I'm enjoying it still and I love driving this track. My plan for tomorrow is a points finish."
Sebastien Buemi and Jaime Alguersuari of Toro Rosso were unfortunate to be dumped out of contention for Q2 in the final moments of the first session by Alonso and Kubica, but will still start ahead of Kazuki Nakajima and Romain Grosjean.
Luca Badoer was slowest for Ferrari, spinning off the track at the end of Q1. Rumours that he might be replaced for Ferrari's home race at Monza by Fisichella can only be encouraged by the outcome of today's remarkable qualifying.
Belgian Grand Prix grid positions
Times show the fastest lap in the last session completed.
Giancarlo Fisichella, Force India: 1.46.308 (Q1) 648kg
Jarno Trulli, Toyota: 1.46.395 (Q1) 656.5kg
Nick Heidfeld, BMW: 1.46.500 (Q1) 655kg
Rubens Barrichello, Brawn GP: 1.46.513 (Q1) 644.5kg
Robert Kubica, BMW: 1.46.586 (Q1) 649kg
Kimi Raikkonen, Ferrari: 1.46.633 (Q1) 655kg
Timo Glock, Toyota: 1.46.677 (Q1) 648.5kg
Sebastian Vettel, Red Bull: 1.46.761 (Q1) 662.5kg
Mark Webber, Red Bull: 1.46.788 (Q1) 658kg
Nico Rosberg, Williams: 1.47.362 (Q1) 670kg
Adrian Sutil, Force India: 1.45.119 (Q2) 678.5kg
Lewis Hamilton, McLaren: 1.45.122 (Q2) 693.5kg
Fernando Alonso, Renault: 1.45.136 (Q2) 684.4kg
Jenson Button, Brawn GP: 1.45.251 (Q2) 694.2kg
Heikki Kovalainen, McLaren: 1.45.259 (Q2) 697kg
Sebastien Buemi, Toro Rosso: 1.45.951 (Q3) 685kg
Jaime Alguersuari, Toro Rosso: 1.46.032 (Q3) 704.5kg
Kazuki Nakajima, Williams: 1.46.307 (Q3) 706.1kg
Romain Grosjean, Renault: 1.46.359 (Q3) 704.7kg
Luca Badoer, Ferrari: 1.46.957 (Q3) 691.5kg