The slow-burning controversy about the quality of racing in this year's IndyCar Series flared into life after the SunTrust Indy Challenge turned into such a procession that the drivers felt compelled to apologise to fans afterwards.
Polesitter Dario Franchitti, who finished second to team-mate Scott Dixon after losing the lead in the pitlane, said: "I have to apologise to the fans because that was an awful, awful race. There's nothing the drivers can do about it. We're trying as hard as we can. It was a terrible race."
And ex-Formula One pilot Robert Doornbos, who finished ninth for Newman/Haas/Lanigan, summed it up with crushing brevity: "It reminds me of my F1 days."
With no on-track passes for the lead, the result was entirely decided by pitstops and caution periods. Franchitti led the first 27 laps, until championship leader Ryan Briscoe's understeering car escaped him and he crashed into the wall, giving most of the field the opportunity to pit.
Andretti Green Racing kept two of their drivers, Hideki Mutoh and Danica Patrick, out on track and they took over at the front. Franchitti quickly took Patrick on the restart, but Mutoh retained the lead until lap 105 when he was finally forced to pit for fuel, handing the lead back to the Scotsman.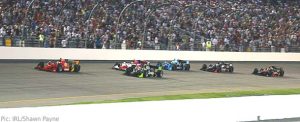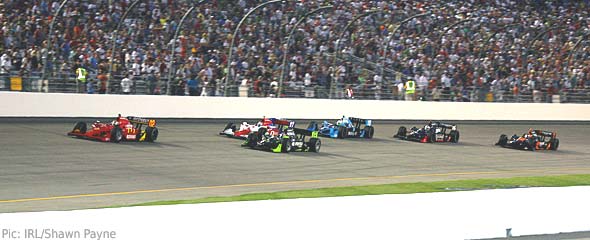 The race was settled in the caution period following Mike Conway's lap 137 crash, in which the Englishman demonstrated vividly why no-one wanted to deviate from the racing line for a moment, whether to overtake, lap rivals, or allow themselves to be lapped.
Avoiding Ed Carpenter's Vision Racing car, he strayed into treacherous territory, lost control, and hit the wall in turn four: "Basically Ed came out of the pits and I went to the outside of him and caught the marbles. That was it," said Conway.
Franchitti was still leading at this point, but had used up too much fuel in his abortive attempts to overtake Mutoh and was forced to come in for more during the caution period while the pitlane was officially closed. By the time he'd made his mandatory second visit to the pits, the 1-2-3 was Dixon, Franchitti and Graham Rahal – and that's how it stayed through the remaining 160 laps.
While there have always been questions about how successfully the IRL's cars can overtake on road courses, this season has seen processional events even on ovals where side-by-side racing has occurred in the past, such as the Texas Motor Speedway.
Dixon said: "It was a bit of a procession, unfortunately – it was very tough to pass because of the track. In the last couple of years we've really slipped into having a car that is not enabling a whole lot of passing.
"So tonight there was a premium on trying to save some fuel. I saved a little bit more than Dario, and he got caught out with that yellow and I was able to continue on and jump him in the pits. So that was the pass for the lead.
"But it was totally down to strategy. Even once you got to lap traffic it was very tough to pass. There was one line out there – if you tried to go around the outside or even move up or make dives it was very slippery off the track. So it was a frustrating night."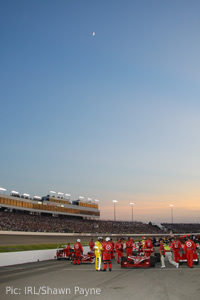 Franchitti said: "It was obviously disappointing not to have won. But in the track position race, Scott was out front. Unfortunately, my mistake was trying to use too much fuel to pass Mutoh.
"Ultimately that hurt us, because we had to pit when the pits were closed – literally had come off the track just about to go into the pit lane and the yellow came out.
"And that was really all there was. Once Scott got ahead, we did our best. We were pushing like hell to pass him, but we couldn't get it done."
One group of cars that did make some ground was the four Andretti Green entries, which all qualified poorly but took fourth through to seventh places. The top 10 was rounded out by Raphael Matos, Doornbos, and Dan Wheldon. Justin Wilson finished 14th and Conway was classified 18th.
Franchitti's second place and Briscoe's crash means that the Scotsman now leads the championship by a point from his team-mate Dixon. Penske team-mates Briscoe and Helio Castroneves are third and fourth, with Patrick and Wheldon making up ground in fifth and sixth.
Discussing the overtaking question afterwards, Franchitti said that it wasn't simply the case that the cars were so similar that everyone was equal: "I don't think it's because things have equalised because there were some people out there tonight with horrible handling cars. We couldn't get around them.
"Everybody's pushing. It's not that we're just cruising around, but we cannot get close enough to make those passes. And we need to look at that and fix it.
"We've got the same ingredients we had two years ago and three years ago when we put on great shows. So we can do it. We've just got to figure out what's missing and I don't know the answer to that."