News reaches us this week that one young F3 hopeful is getting the chance of a lifetime – the opportunity to test with a Formula One team.
Furthermore, the Carlin Motorsport driver has managed to do it without winning either the British F3 International Championship, in which he competed in this year, or the Macau Grand Prix. It's a fantastic opportunity for him to get his talents showcased by an outfit with a truly global reach.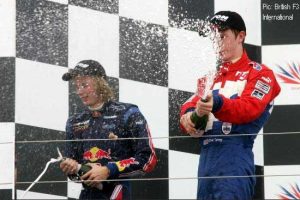 Only one downside, for the UK's motorsport fans. It's not the hotly-tipped Oliver Turvey that has won himself this chance – but his team-mate, the talented young New Zealander Brendon Hartley.
It looks to us like that country has a great few years ahead of it, what with 19-year-old Hartley and also his countryman, the 18-year-old Earl Bamber, who is currently driving up a storm for the Kiwis in A1GP and in GP2 Asia.
So, all power to Hartley's elbow. But it does prompt us to ask: why exactly do things appear to be stalling for Turvey?
And we've concluded that it comes down to one thing: expectations.
It wasn't so long ago that The Mirror, breathless and excited about its shiny new F3 sponsorship, was hailing Turvey with that inevitable and weighty epithet, 'the new Lewis Hamilton'.
Of course, this bit of hyperbole isn't Turvey's fault. As soon as one person makes a breakthrough, as Hamilton did, the pundits start falling over themselves to correctly spot who will be next to travel a similar route to the same destination.
But it's not just The Mirror. Turvey also enjoys the support of the Racing Steps Foundation, a charity with a mission to help talented but financially disadvantaged young drivers to attain drives in senior formulas.
The 21-year-old, who studied engineering at Cambridge University and won the first ever full blue for motorsport as well as a handful of 'promising young driver' awards, would probably have faced the end of his career without its financial intervention.
But part of the charity's strategy for promoting him seems to be for both Turvey and Racing Steps to go out of their way to talk up his chances to the max.
For instance, here's the press release where he is predicted to win in Macau.
Turvey, along with his team mates, is rated as a potential race winner by the organisers. The RSF driver's preparations are geared to joining the likes of Ayrton Senna and David Coulthard who number among the few drivers to have won the race at the first attempt.

"It's going to be a great experience," said Turvey. "Everyone says it's one of the hardest tracks in the world so as a first year driver it's going to be extremely tough. But that doesn't mean it's not possible to win."
In the end, he finished seventh after fighting his way up through the field following a disastrous stall on the grid. Pretty impressive for a newcomer to the race. Less so when compared to the build-up.
And here's the Autosport story where Turvey explains how he intends to challenge for the title during his first year of GP2, and backer Graham Sharp adds how RSF only deals with the top teams in each formula.
Oliver Turvey believes he can be a contender for next season's GP2 title, despite losing the British Formula 3 championship to Jaime Alguersuari in the final race of the season last weekend.

Racing Steps founder Graham Sharp added: "We will continue to support Oliver and he'd like to move up. It's our philosophy to only work with the top teams in each formula and we will continue to follow that."

Turvey also admitted that he has received several offers to race in Formula Renault 3.5 next year, but is determined that GP2 is the first choice: "I want GP2, but we will only do it with a team that can win it," he said.
The ambition is certainly impressive. But we think it's too much, too soon – even for a young driver who has a fair number of achievements under his belt already, that's a lot of pressure to live up to. The danger is that the hype will create the impression that Turvey should somehow be doing better than he already is.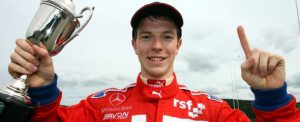 While so far missing out on the headline victories, he has a solid record to his name – second place in this year's British F3 International championship, plus a great drive at Macau to get back from his dreadful start, where he was still the top-finishing Brit. In 2006 he was the McLaren Autosport BRDC Young Driver of the Year.
There is absolutely no doubt he has talent. But talent is not always rewarded in motorsport – something he and his backers are clearly aware of.
When we heard Turvey's thoughts on his GP2 ambitions we were reminded of no-one so much as Mike Conway, who tested for Honda F1 and signed with Trident racing, amidst talk of a winning season as a prelude to Formula One, only to enjoy a disastrous reliability record and end up finishing 12th.
At the same time, his hopes of a Honda drive began to look increasingly distant in the face of the queue that had formed in front of him – including his more successful GP2 colleagues Lucas di Grassi and Bruno Senna plus the displaced Super Aguri pilots Takuma Sato and Anthony Davidson and the test-drivers Alexander Wurz and James Rossiter.
Conway's star burned brightly after he won in Monaco – unfortunately, it may also have burned briefly. Turvey must be careful to avoid the same fate.
A worse fate awaited Renault development driver Ben Hanley, who started the last GP2 season with one of the better teams, Campos, but was dropped after failing to match the performances of team-mate Vitaly Petrov. He made a one-off return with Durango, but hasn't been seen at that level since.
The lesson there for Turvey is simple: even if a drive with a top GP2 team could be achieved, if he's not yet ready to make the most of it then it could turn out to be a career-killer, not a career-maker.
It must be truly frustrating to see the younger Hartley seemingly streaking ahead on the path to the top. But Turvey needs to be patient and take the time to hone his skills.
It's our feeling that, with the current driver market in both F1 and GP2 looking increasingly stagnant, he could do a lot worse than consolidate with another year in a lower series. After all, Lewis Hamilton spent two seasons in Formula Three Euroseries, taking the time to learn all he could and win the title on his second attempt. Only then did he make his stunning transition to GP2.
Turvey is in a similar position. His talent is widely acknowledged, and he has the self-confidence to believe he can go to GP2 and win.
All well and good if he can, but an extra year's learning and some more wins will do him no harm if he wants to one day demonstrate that talent on the biggest stage of all.
In the long run he would be far better served if he can smash the opposition in F3 or Formula Renault 3.5 next year than if he ends up trundling around behind a more experienced team-mate in GP2.