Scott Dixon won the Honda Indy 200 at the Mid-Ohio Sports Car Course after his closest challenger Justin Wilson appeared to mistime his last pitstop and ran out of fuel, costing himself a certain podium and a possible victory.
Wilson had qualified second and lined up next to championship leader Ryan Briscoe, but had the dominant car on the more favourable Firestone red tyres during the first stint of the race and soon overtook the Australian to build a lead of almost eight seconds.
Dixon stayed out longest before the first round of stops and was rewarded with second place, close behind Wilson and seemingly faster, after he finally pitted. He took the lead shortly afterwards on lap 37 when the pair came to lap Milka Duno, running six seconds a lap slower, and Wilson appeared to be impeded.
The Sheffield driver was able to stay in touch with the faster Dixon thanks to two full-course cautions, one an over-reaction to Helio Castroneves briefly dumping himself in the gravel. The Brazilian was back in the race before the safety car had properly taken up position.
The second caution came just four laps after the re-start, when Mike Conway tried a rash overtake on Danica Patrick and dumped her into a run-off area. He was punished with a drive-through penalty and later retired, while Patrick rejoined as the final finisher in 19th of 21.
Dixon's victory was sealed at the end of the second stint, on lap 60 of 85, when he stayed out as Wilson finally pitted for fuel and red tyres. The Englishman's car slowed noticeably on its in-lap, crawled up the pitlane, and failed to take off after it was refuelled. By the time his Dale Coyne Racing crew restarted him and sent him out he was down to 15th.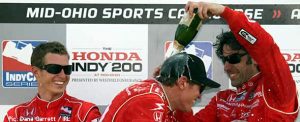 "Sometimes things don't work out how you want them to," said Wilson afterwards.
That left the New Zealander unstoppable on his way to his 20th victory – more than any other driver since the IRL split away from CART.
The two bonus points helped him take the championship lead away from second-placed Briscoe, 460-457, while his team-mate Dario Franchitti completed the podium and remains third in the title hunt with 440 points. Ryan Hunter-Reay and Hideki Mutoh took a surprising fourth and fifth.
The championship lead has now changed 12 times in the 13 races so far run this season, but Dixon said he wasn't bothered about being the new front-runner: "I don't really care for leading the championship now,. The only time you want to lead it is at the end. If you can get a runaway now and start building some points on those guys, that's going to be important. But I can see it going down to the wire.
"I don't really think the pass on Justin had much to do with Milka," he added. "We pretty much made the pass going into the corner, and she made it kind of interesting in the next couple of corners".
Briscoe, last year's winner, said: "No doubt he was strong. He just had one of those cars. I heard him saying he could just put the car anywhere. I had one of those days last year – I could do anything with it, be aggressive and the car would stick.
"I think it's one of those tracks. You can find that setup where the car's really good, it's very fast. But if you're off a little bit, it's daunting. There are some fast corners, there are some kerbs. If it's not right, you pay for it. It was just one of those days."
Franchitti said: "I was a little disappointed – we cannot get the Target car handling the way I want it to. When we do, I think we'll be really good because we're finishing third with the car not balanced at all the way I like it. If we get it the way we do on the street courses, look out."
Dan Wheldon continued Panther Racing's run of poor form on road and street courses, suffering tyre graining early on and never managing a competitive stint during a run to 16th place.
Race results
Scott Dixon, Ganassi
Ryan Briscoe, Penske
Dario Franchitti, Ganassi
Ryan Hunter-Reay, Foyt
Hideki Mutoh, AGR
Marco Andretti, AGR
Paul Tracy, KVR
Graham Rahal, N/H/L
Raphael Matos, Luczo Dragon
Tony Kanaan, AGR
Oriol Servia, N/H/L
Helio Castroneves, Penske
Justin Wilson, Coyne
Robert Doornbos, HVM
E.J. Viso, HVM
Dan Wheldon, Panther
Ed Carpenter, Vision
Richard Antinucci, 3G
Danica Patrick, AGR
Mike Conway, D&R (retired)
Milka Duno, D&R (retired)