Comtec Racing's Jon Lancaster has taken his first Formula Renault 3.5 win after a fiercely-fought race at the Algarve's Portimao circuit.
He grabbed the top spot in race one despite near-constant pressure from International Draco Racing's Bertrand Baguette and Carlin Motorsport's Jaime Alguerusuari, who in the end took second and third respectively.
Taking advantage of the reverse grid from qualifying, Lancaster was in pole position ahead of Epsilon Euskadi's Chris Van der Drift and Dani Clos, and SG Formula's Guillaume Moreau. Due to the extreme heat the race was shortened from 44 minutes + 1 lap to 35 minutes + 1 lap.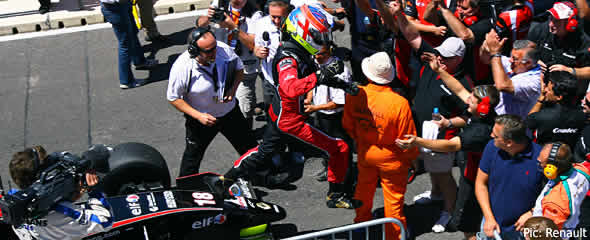 Lancaster got off to a flying start ahead of Moreau while Baguette made a clean start from the third row. A collision between Van der Drift and Clos forced Alguersuari's team-mate Oliver Turvey wide, leaving the British driver in ninth. Clos emerged in fourteenth, while Van der Drift was forced to retire.
Lancaster was still leading the pack at the end of the first lap but Baguette had got up to second after overtaking Moreau on the start-finish straight. Following a collision between Tech 1 Racing's Daniel Ricciardo and Prema Powerteam's Julian Leal, the safety car was brought out on the second lap.
Lancaster held onto first place at the restart, under pressure from Baguette. Moreau along with a following pack containing Alguersuari, had made up ground on them. Lancaster held off Baguette as best he could, while Alguersuari set about making his way up to third place.
Ten minutes from the finish, the safety car came out once more after a crash involving Turvey and two others at the hairpin. Lancaster was in the lead after the restart, running ahead of hard-fought competiton in the chasing pack. It was enough to secure him the race.
Fellow Brits James Walker took sixth place and Greg Mansell 11th.
Lancaster said afterwards: "It was a complicated race. I had a small lead at the start, but they came out fighting. I was really concentrating on not letting Bertrand Baguette get past me. We're faster with every race. At Le Mans I came close to winning, but today I did it, I'm delighted."
In the second race Alguersuari took his his first Formula Renault 3.5 Series win having started from pole position. He finished ahead of Charles Pic and Guillaume Moreau with the win moving him into third place in the championship, 36 points behind leader Baguette.
Oliver Turvey was sixth, James Walker eighth, Greg Mansell 13th and Lancaster 18th after a collision with Russian driver Anton Nebvlitsky ended his race.