Reigning champion Scott Dixon kick-started his title defence with a win at the Kansas Speedway as the IndyCar series returned to ovals – and to business as usual.
Seven of the top eight places were filled by the 'big three' teams of Ganassi, Penske and Andretti Green, with Helio Castroneves racing from the back row at the start to take second place ahead of Tony Kanaan.
Only Dario Franchitti was missing from the top end of the results, and the pre-race series leader was well on his way to matching Castroneves' feat when Graham Rahal braked in front of him, forcing him into a race-ending accident.
The retirement dropped the Scotsman from the lead to third in the championship with 96 points, behind Kanaan on 100 and Ryan Briscoe on 99.
In contrast to the crash-filled race served up earlier in the day by the Indy Lights drivers, the IRL outing was largely drama-free as the predicted heavy rain somehow stayed away and the field coped with the treacherous winds.
Kanaan was among many who doubted racing was possible – before getting on with doing it: "We got to look at each other before the race starts. We're like, "What the hell we doing here today? It was very windy."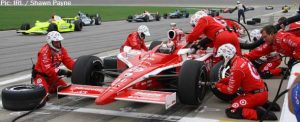 Dixon, who had been stranded in the lower reaches of the standings before the race and is now eighth, said: "I think we were expecting the race to be a lot more difficult as far as the wind conditions in Turns 3 and 4 and maybe more cautions.
"We had a bit of a fumble in the pits, which dropped us back to third at one point and made it quite difficult to get past [Ryan] Briscoe.
"I think we were trimmed to win as they say – the car was maybe not as good as it should have been in traffic. Luckily enough, we were saving enough fuel and caught the caution that catapulted us to the front."
Castoneves, Franchitti and EJ Viso were all demoted to the back of the field by race control for qualifying infringements, and all made up places rapidly in the early stages, but only Castroneves stayed out of trouble to complete the race.
Franchitti blamed Rahal for the crash that dumped him out of contention, which happened as Rahal was slowing to enter the pits: "He braked really, really early. That's one of the places you can make up time or lose time here, things are so close on the track that you've really got to maximise your pit entries and exits.
"We were just brushing the brakes in sixth, and Graham looked like he was hard on the brakes. I'd no idea you could go in the pit that slow. I got on the brakes, the fronts locked, and it blew both front tyres out."
Rahal, told of Franchitti's comments after the race, sounded horrified: "I have no clue what happened – I'll go talk to him. All of a sudden I saw out of my right rear mirror this thing just go straight on and I was like, 'Whoa, what happened there?'"
Dan Wheldon, hoping for an unlikely third consecutive victory at Kansas with his new team Panther, gained ground early on and ran in the top five until mechanical woes slowed him. He eventually finished 10th.
He said: "The front roll bar locked itself up in fully stiff position, which created an imbalance in the National Guard car and we had to battle with it all day. To be honest I just lacked a little pace at times, and because of the imbalance in the car I just couldn't get close to anybody.
"Everybody at Panther is incredibly disappointed, and we know we have several changes to make before Indianapolis. In this league, it's so competitive and we're going to work to get better as a group."
Neither Mike Conway nor Justin Wilson were particularly expected to feature strongly on a circuit that favoured big budget teams able to wring every drop of performance out of the common IndyCar machine, but Wilson's boss Dale Coyne was pleased with his driver's 14th place.
He said: "We had a solid run today and Justin performed well in the windy Kansas conditions. He was constantly working hard in the car to improve the balance and made smart decisions during the race."
Wilson said he was eyeing up a possible overtake on the final lap: "It was great to have a good finish in my first oval race of the season. The Z-Line Designs car handled well all day and I was charging for position on the last lap but unfortunately I couldn't complete the pass at the line.
"The wind was a bit of a challenge but the balance was good, and we kept improving on every stop. I feel better going into Indy knowing we can make positive adjustments and improve during the race."
For Conway, Kansas was always going to be an opportunity to experience oval racing before the build-up to the Indy 500. He started the race well, but came unstuck in the pits when he clipped a crew member and earned himself a drive-through. He later caught the wall and was forced to retire.
He said: "I enjoyed my first oval. I was moving up a little bit at the beginning of the race, buying my time and keeping it safe. We were looking good, but when I came into the pits I locked the front left and I'm sorry to the crew, because I clipped one of the guys and luckily he is okay.
"We got a drive-through and lost two laps. The Dad's Root Beer car felt really good after that and we were making great time, but unfortunately our day ended early. I feel that Kansas prepared me well and I look forward to the month of May."
Team co-owner Dennis Reinbold said: "With Mike we had a pit incident that put us down two laps, but once we sorted through that we were running pretty quick. In fact we were running times that were equal to, and at times, faster than what the leaders were doing.
"We made some adjustments to the car and Mike got out and did a great job of passing people and got a lot of experience running in traffic, which is what we wanted to accomplish. Unfortunately, his car had some push and caught a gust of wind and brushed against the wall, which is what ended our day."
Next up: the month of May, and the Indianapolis 500.