Championship leader Ryan Briscoe and Sheffield's Justin Wilson will start on the front row at Mid-Ohio as the IRL attempts to follow last weekend's thriller in Kentucky by proving it can also serve up an entertaining road-course race.
Briscoe won last year's race and has now taken three pole positions this season – but one of those was at Watkins Glen, where Wilson also qualified next to him and beat him to the victory.
Wilson's win, the first in 25 years of competition for the underfunded Dale Coyne Racing team, was one of the all-time great underdog triumphs and he will be hoping to repeat the achievement in the Honda 200 at the Mid-Ohio Sports Car Course – but Briscoe's last-gasp defeat of Ed Carpenter at Kentucky shows he is right out of patience with underdogs.
Briscoe will be trying to become Team Penske's fourth back-to-back winner at Mid-Ohio, after Emerson Fittipaldi did it in 1992-93, Al Unser Jr in 1994-95 and Helio Castroneves in 2000-01.
Castroneves will start fifth, with the other former winners in the field, Scott Dixon and Paul Tracy, lining up third and 10th. Graham Rahal qualified fourth, while Dario Franchitti was the final driver in the Firestone Fast Six pole shootout.
Briscoe said: "Mid-Ohio has treated Team Penske well. The team has a lot of history here – we love the track. All the credit to the engineers and mechanics, they give us a fantastic car to drive and make my job a whole lot easier.
"It's a lot of fun around this track. It's been tricky conditions so far with the rain and some patches in the corner. It changes the balance of the car from corner to corner. The red Firestones in final qualifying were awesome. A lot of grip, and as usual, a lot of fun to drive."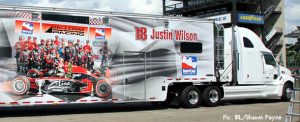 Wilson, disappointed to miss pole, was generally pleased with qualifying:"It went well. The car was working well and everyone on the team has done a great job. I was hoping we could get on the front row, if not the pole, and we missed it by a fraction. That's frustrating, to know that you're that close and it didn't quite happen. This is hopefully a repeat of Watkins Glen."
Franchitti said: "We're missing just a little bit on the road courses right now. The street courses have been good, so we have to keep working on that. I think we have a good race car. I'm a little disappointed; we've made every Fast Six this year but we need to move up in it."
Neither Mike Conway nor Dan Wheldon made it out of the first stage of qualifying and will both start near the back, Conway in 16th and Wheldon in 17th of 21. Robert Doornbos' debut for HVM sees him start 18th while his replacement at Newman/Haas/Lanigan, Oriol Servia, lines up 14th. Ed Carpenter, the hero of Kentucky, starts last.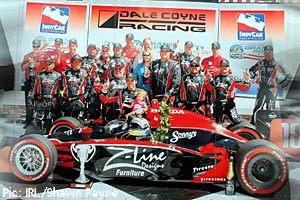 * Dale Coyne Racing may not have the biggest budget in the IndyCar pitlane, but they know how to celebrate a victory when one finally arrives. The team debuted a new look for its transporter at Mid-Ohio – a vinyl wrap design that included a large photo of the entire team, including Wilson and his infant daughter Jane, celebrating in Victory Lane.
"The trailer was looking old and tattered and we knew a wrap would freshen it up," team owner Dale Coyne said. "We've been meaning to wrap it but it's been a busy schedule and we haven't been in the shop long enough to do it.
"After Watkins Glen, we thought it would be a good tribute to the team and everybody that's been with us to do one like this. I've never seen one like this and I don't think anyone has. So, we came up with this idea and put the design together and got it done."