Just when A1GP's Team Pakistan seemed ready to race at last, its driver was in Dubai showcasing an F1 car that was shortly to be smashed up by a rally driver.
The team has spent the entire season trying to get a car that the taller-than-average Adam Khan, who is the team boss as well as the driver, could pilot safely and comfortably.
A testing session for the modified chassis was held in South Africa in February when Khan pronounced himself satisfied and said he expected to race in Portugal.
"It's been a long wait for me to have a car which I could safely and comfortably fit, but it's been worth it. We elected not to contest the South African round, but we'll be racing again at the next round in Portugal."
However Team Pakistan did not compete in the weekend's events after all.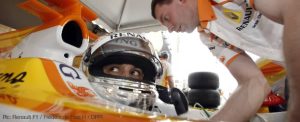 Yorkshireman Khan, who has in the meantime joined the Renault Formula One team as a demonstration driver, was in Dubai at one of his new employer's popular roadshow events.
And it was an eventful weekend, after veteran Middle Eastern rally star Mohammad bin Sulayem had been signed up to add a bit of local colour.
The 14-time title holder had swapped rides with Renault tester and GP2 driver Romain Grosjean – then lost control of the 2008-spec R28 as the pair raced.
He spun into the pit wall at Dubai Autodrome and, according to reports, put quite a dent in the machine. (You can sort of see it happen through the glare in this video.)
He told Gulf News: "It all happened far too fast. Once I lost control of the car all I wanted to do was to bring it to a halt, but there was no time. The next thing I knew I had slammed into a wall.
"The only thing I'm disappointed about is that I could not complete the race. I'm going to give it another try, and this time, finish the race.
"I would like to thank Renault and their engineering team for giving me the opportunity to race such a fantastic car. I hope they will give me another chance."
The crash was the only blip in an otherwise busy schedule of events that culminated in the team spending 16 hours fitting more than 2000 metal studs into a set of F1 tyres so that Nelson Piquet Jr could demonstrate donuts in the snow of an indoor ski slope.
"That was awesome – driving on the snow in an F1 car is something I never thought I would have the chance to do and it was a lot of fun," he enthused.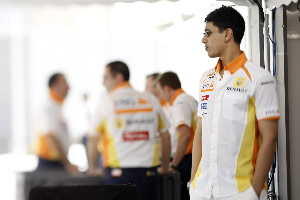 Khan, who made his Roadshow debut, added: "To come to such an exciting place as Dubai and experience my first roadshow has been really enjoyable. Seeing everything for the first time and the enthusiasm of the fans has made me realise just how special these events are.
"It's a lot of fun and the perfect venue to stage such an event. We have lovely weather, spectacular scenery and lots of enthusiastic fans who have come along to see the cars."
He didn't get the chance to do any snow driving, but did plenty of ordinary donuts to please the crowds: "It's actually quite an easy thing to do because you have so much power in an F1 car," he said.
"You just put the car into first gear, let the revs build and release the clutch. They're always fun to do and the fans enjoy them because it's something they don't see very often, not even at a Grand Prix."