Williams rookie Nico Hulkenberg narrowly beat double world champion Fernando Alonso to the unofficial timesheet's top spot during today's testing at the Circuit de Catalunya.
The Ferrari recruit spun on his final lap of the day, leaving him unable to best the youngster's earlier effort of 1:20.614 – despite having clocked a top time of 1:20.637 himself.
Williams' programme of qualifying simulations, played out against a background of full race simulations from most of the other participants, was no doubt a strong contributor to the result.
Despite that the team was delighted, with Williams PR Claire Williams, covering the session from Barcelona on Twitter for fans, saying: "We won! Session ended just a couple of mins early as Alonso spun off, leaving the Hulk at the top of the charts."
"The Hulk" himself said: "We've had a good test here. P1 today is nice but means nothing, to be honest. We're not in Bahrain yet. It's positive for the team, and for me, to know what the car can do though. We did a lot of set-up work today and have found some interesting things so I feel ready and confident to go to Bahrain now."
Williams technical director Sam Michael added: "Nico finished his last day of winter testing today with a good run of laps. Our programme included the evaluation of a new sidepod, starts practice and some additional work on the set-up of the FW32.
"We're making progress, but there's still plenty to do."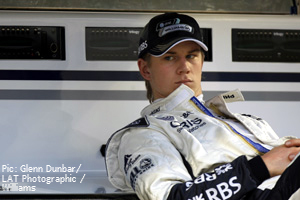 In third place was BMW Sauber's Pedro de la Rosa on 1:20.973 while in fourth was Force India's Vitantonio Liuzzi on 1:21.056 – the first driver not to break the 1:20 mark.
Sebastian Vettel was placed fifth for Red Bull, with the Catalan Jaime Alguersuari in sixth. Michael Schumacher was seventh for Mercedes, Lewis Hamilton eighth for McLaren and Robert Kubica ninth for Renault while Jarno Trulli and Timo Glock brought up the rear for new teams Lotus and Virgin.
Lotus chief technical officer Mike Gascoyne said of the test: "It was a productive day in terms of set-up direction with Jarno. We were able to identify some problems with the set-up in the car and establish clear direction to improve it. We still have a long way to go, and a lot of time to come from the car.
"We had a couple of minor hydraulics issues which stopped the car on track, but nothing major, so all in all it was a productive day and we're aiming to continue in the same vein tomorrow."
The Circuit de Catalunya confirmed that 21,200 spectators had gathered to watch the test today. Most, no doubt, were drawn by the opportunity to see local heroes Alonso and the Barcelona-born Alguersuari in action.
Barcelona test times day two
Nico Hulkenberg, Williams: 1:20.614 (99 laps)
Fernando Alonso, Ferrari: 1:20.637 (134 laps)
Pedro de la Rosa, BMW Sauber: 1:20.973 (114 laps)
Vitantonio Liuzzi, Force India: 1:21.056 (90 laps)
Sebastian Vettel, Red Bull: 1:21.258 (125 laps)
Jaime Alguersuari, Toro Rosso: 1:21.571 (104 laps)
Michael Schumacher, Mercedes GP: 1:21.689 (85 laps)
Lewis Hamilton, McLaren: 1:22.152 (93 laps)
Robert Kubica, Renault: 1:24.912 (53 laps)
Jarno Trulli, Lotus: 1:25.524 (70 laps)
Timo Glock, Virgin: 1:25.942 (52 laps)