After seven second places, a season full of frustrations and a trailer fire that destroyed his first-choice car, Helio Castroneves finally managed to take the chequered flag first and win an IndyCar Series race.
The popular Brazilian qualified for the Indy Grand Prix of Sonoma County on pole and led the most laps on his way to victory, taking the maximum points from the contest and knocking a sizeable chunk out of the championship lead held by Scott Dixon.
Leading drivers used a variety of different pit strategies during the race, and at times Castroneves and his Team Penske colleague Ryan Briscoe found themselves running in the midfield because of this, but by the end their dominance was clear as they came home first and second.
Target Chip Ganassi's Dixon is still the hot favourite for the title, but a below-par outing that saw him finish in 12th place means the championship race still has some life left in it.
It's now reduced to a two-way battle, though – Tony Kanaan and Dan Wheldon finished third and fourth in the race, but were still eliminated from contention for the title.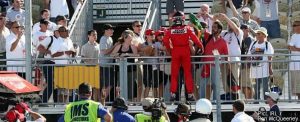 Afterwards, Castroneves had to modify his usual celebration of climbing up a fence to salute the crowd – Infineon lacks the necessary infrastructure, so instead he scaled a balcony to party with Brazilian supporters.
He said: "People kept telling me that the door would finally open, and today we broke through it. What an incredible effort by Team Penske – I can't thank them enough.
"It was really fun pushing and pushing every lap for the entire race. That's what it's all about, and that's what made us win. We didn't save any fuel. We just kept going and going, and it paid off in the end."
He paid tribute to the mechanics who prepared replacement cars for the two drivers after a fire destroyed the ones they had been planning on competing in: "The attitude of those guys is priceless. Everyone has been working so hard since last Wednesday. You're talking about two days work in 12 hours. When you see guys doing that, you just want to do your best."
Castroneves now has at least one victory in eight consecutive seasons, an IndyCar record, and has laid to rest the less enviable record of not winning for 29 consecutive starts – the longest winless run in his 11-year top-flight career.
Dixon saw his team-mate Wheldon finish near the front while he was trapped in the midfield without having made any obvious error: "I'm not upset with anybody in particular, we just did absolutely nothing right. Everything we did was wrong."
Team owner Chip Ganassi was philosophical about the relative failure, but not unduly concerned about the effects on Dixon's chances of winning the championship: "Well, those things happen. I think if Helio wins the next two we just have to place fourth, so we should be able to do that. We just have to stay behind him. We're OK. We have a long way to go yet."
Wheldon, the victim of recent speculation suggesting he might be replaced at Ganassi, said: "It's unfortunate for Scott, he was quick all weekend. That's the thing with these tracks, it's hard to overtake. He's one of the best guys out there. I think it's the strategy that cost him, but he'll bounce back, and he knows he's got a strong team-mate in his corner to look after him."
Justin Wilson, like KVM's Oriol Servia, began the race fighting with Dixon in the top six only to find himself down in the midfield with him as strategy decisions and the race's sole yellow flag caution spell – for a Marty Roth spin – worked against him. He was able to climb back up to ninth by the end.
He said: "The McDonald's team was running strong, but once that yellow happened it really mixed everything up and we had to decide which strategy to go on. Helio was on our same strategy, and he won the race, but he was able to get by people.
"A couple of guys between me and him weren't able to overtake the backmarkers, and it allowed the people on the other strategy to capitalise. It's disappointing because I thought the McDonald's car was good, and we had a strong day, but we couldn't get a result out of it. We did everything we could, so we just have to move on to the next one."
Darren Manning qualified a lowly 21st, and the team's attempt to make up ground with a chancy fuel strategy backfired. He said: "It was a frustrating day for all of us. We tried to be aggressive on the pit strategy and it bit us.
"We got behind some slower cars and because it is so tough to pass here, we were stuck behind them, causing us to lose more than we gained by trying a different strategy. The car was alright but we still need to do a lot of work to get around here better than we have the last two years."